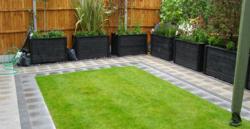 I believe a garden shouldn't just be a perfectly manicured lawn with raised flower beds and winding paths but be a haven for local wildlife
Wilmslow, Cheshire (PRWEB) March 20, 2013
"We've decided to promote 'Going Green' to all our customers. Being environmentally friendly is something we at Wilmslow Driveway and Patio Design believe passionately in," said Warren, owner of the Cheshire Landscape Designers.
After several requests from customers Warren Kirkland (Head designer and owner of the Cheshire Landscaping firm) has decided to revise his methods and promote some innovative and greener ways of gardening.
"We've always been conscious of how our business affects the environment," said Cheshire Landscape Designer, Warren.
"I believe a garden shouldn't just be a perfectly manicured lawn with raised flower beds and winding paths but be a haven for local wildlife," he added.
"This method of gardening won't be everybody's cup of tea but most of the people I've presented my ideas to have loved the new suggestions," said Mr. Kirkland.
The Cheshire Landscapers no longer use artificial chemicals, pesticides or weed killers.
"It's all too easy to go and buy powerful weed killers but there are safer and just as effective alternatives available. You can use boiling water or vinegar to kill weeds."
Instead of using pesticides Warren and his team now encourage pest eating animals, like hedgehogs, toads, frogs and birds to visit the gardens they design and maintain.
"Encouraging wildlife to visit your garden is a very effective way of keeping pests under control and much better than spraying plants with chemicals," advised Warren.
"Hanging bird feeders from your trees will soon attract these pest eating machines to your garden," he added
"Also the addition of a garden pond with a shallow sloping side will encourage frogs and toads to take residence, these amphibians will help with pest control," advised the Cheshire Landscape Designer.
"A garden should be as natural as possible and you should aim for the correct balance of wildlife and plants to create the perfect ecosystem" the Cheshire Landscape Designer added.
Instead of clients investing in huge lawns he now suggests creating a 'wild' area and planting wild flowers and native grasses.
"Having a wild area in your garden is one of my favourite new suggestions. Pollinating insects like the increasingly rare bee and butterflies will soon visit and add a touch of colour to your garden. You'll also be helping by providing an environment for these valuable insects," Warren advised.
Wilmslow no longer buy compost and make their own at their unit. They encourage their clients to compost any food waste in the beds they now build.
"Not only does this save money it also reduces the amount of waste which goes in to landfill or is burned. As part of our landscaping we now build compost beds for our customers"
The Wilmslow landscaping company no longer uses peat as they regard the production and harvesting of this damaging to the environment. They prefer to use compost they have made or horse manure from a local stables.
"We've stopped using peat and we use the client's compost or our own. We have a great relationship with local stable yards and we remove their manure and store it at our unit. This is used on all of our local gardens"
Warren recommends his clients harvest rainwater.
"We suggest water collection systems for our clients. The water is chlorine free and therefore better for plants."
"I also encourage the keener gardeners to re-use tubs, like yoghurt pots for seedlings. There is no need to buy new when you can re-use what you were going to throw away."
TV programmes have made the idea of growing your own food popular again and Warren likes to add a vegetable plot to any new garden.
"Growing your own food is very rewarding and the results are often much tastier than supermarket vegetables. A lot of fruit and vegetables are easy to grow and the seeds are fairly cheap. I always include a vegetable plot in any new garden plan these days"
"I hope my greener attitude will inspire other gardeners to take this approach and my customers to care more about their environment"
Warren began Wilmslow Driveway and Patio Design in 1985.
Mainly working in the Wilmslow area of Cheshire his business has grown steadily and he now employs twenty staff.
"I like to think our green approach offers the customer something different and I hope it catches on" said the Cheshire Patio Design Specialist.
This release was written by Manchester Search Engine Marketing specialists Vizcom Design.