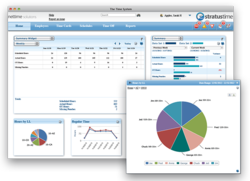 The real-time status of the information on the manager dashboard gives an at a glance view to quickly make decisions.
Scottsdale, Arizona (PRWEB) March 20, 2013
NETtime Solutions announced today that it has released StratusTime, its next generation application that continues the company's tradition of providing innovative anywhere, anytime, cloud-based time and attendance.
StratusTime is a leap forward in SaaS time and attendance with features like drill down analysis in customizable interactive charts and policy-aware visual scheduling.
The application was built from the ground up with the dual vision of creating a great user experience built around decision-making analytics that help organizations of every size make predictive business decisions.
Client feedback was instrumental during product development, especially in creating tools that give managers the ability to immediately respond to operational needs by making informed workforce management decisions based on the real-time data analytics in StratusTime.
Managers can quickly create customizable interactive charts that track time information to help make predictive decisions based on identified trends or against metrics like key performance indicators (KPI). Clients can drill down into the information to identify and resolve issues where they occur whether by region, department or function.
"We like both the manager and employee dashboards in StratusTime," said Alene Nieves, Vice President at Wolfe Consulting Group, an early adopter of StratusTime. "The real-time status of the information on the manager dashboard gives an at a glance view to quickly make decisions."
"Because employees see their time cards and run their own reports, they are more self-manageable and more productive," Ms. Nieves stated enthusiastically. "That means reduced interruptions and reduced manual efforts, so our managers can focus on their critical responsibilities."
The company has also updated its web site to coincide with the release of StratusTime. Visitors to the site can learn more about the value of StratusTime as well as the company's other products.
"We are thrilled to bring StratusTime to our current and future clients," said Bahan Sadegh, founder and CEO of NETtime Solutions. "We dedicated 70,000 hours and over three years to develop this platform and bring it to market."
About NETtime Solutions
NETtime Solutions is a service company delivering time and attendance exclusively in the cloud. Available anywhere, anytime, StratusTime helps companies manage their workforce with real-time time and attendance data while maintaining compliance with local, state and federal labor laws.