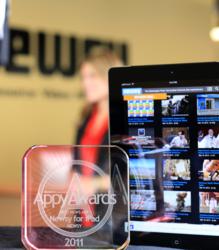 Columbia, MO (PRWEB) March 20, 2013
Newsy, the video news service that analyzes global news sources and wraps them into concise video news bites, won the 2013 Appy Award for Best iPad Publishing. This is the second time in three years Newsy's iPad app has won an Appy award - it earned one in the news category in 2011.
The annual MediaPost Appy Awards, announced during the SXSW Festival in Austin, TX, are among the most prominent awards in the app industry dedicated to acknowledging creativity and excellence in app design across all platforms: mobile, social and web-based.
"We are thrilled to win an Appy Award for a second time," explained Newsy President Jim Spencer. "Since our win in 2011 for best news app, we continued innovating both our content and our app and this win is the result of our team's great work."
The Newsy app, also available for iPhone, Android and Windows 8 devices, offers more than 20 videos a day in eight news categories. By comparing global news sources, Newsy highlights unique perspectives from across the media spectrum. Newsy's fresh approach to stories is unmatched by other news organizations.
Packed with visual cues and infographics, Newsy videos engages users from beginning to end — providing content that is easy to consume and insightful.
About Newsy
Newsy is the only video news service that allows users to compare news sources from around the world to see how a story unfolds. Through concise videos available on the web and mobile devices, Newsy accelerates the understanding of a news story. Newsy has won two Appy Awards, a Davey Award and a W3 Award. Its highly rated free apps are available to download from iTunes, Google Play, the Windows Phone Marketplace and the Nokia Store.