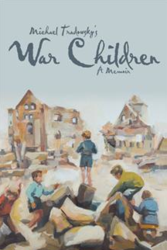 I realized that the suffering of children in wars was and is a universal problem and that my book should be an advocate for the innocent victims of all wars, past and present.
Cleveland, OH (PRWEB) March 21, 2013
"War Children" by Michael Tradowsky tells of the warmth, love, hope, loyalty and humor that held his family together during these difficult times. Together, the family survived coal filled basements, screams of incendiary bombs and trucks filled with refugees. In 1958, their dream of going to the land of unlimited opportunities became true as they immigrated to the U.S.
As a survivor of World War II, author Michael Tradowsky's gives a vivid account of the destruction and refugee deprivation one German family experienced during World War II in his new memoir "War Children". Tradowsky hopes to reach out on behalf of all children and families who have experienced war firsthand.
Tradowsky was born in Germany in 1935 to a courageous and outspoken mother and a father who was a promising theater director. After his father was drafted, Tradowsky's family had to flee from their hometown. As refugees, they endured homelessness, poverty, hunger and winters without heat.
Once in the U.S., Tradowsky struggled to come to terms with his traumatic experiences in Germany. He developed a deep compassion for those who suffered similar trauma and strives to testify for children victimized by war.