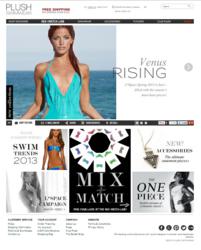 Our new logo and cleaner web design embody the Plush Swimwear customer – a modern, on-the-go woman, who is fashion conscious and in tune with the latest swimwear trends
Fort Lauderdale, FL (PRWEB) March 21, 2013
Plush Swimwear, a leading global online retailer of designer swimwear and luxury beachwear apparel, announced the re-launch of its ecommerce platform with a new website design concept, updated visual brand identity and improved functionalities.
As part of the company's ongoing commitment to enhance the experience of its worldwide customers and visitors, Plush Swimwear developed a new visual branding, website layout and enhanced navigation geared towards a better end-to-end user experience, after extensive research with its customer base.
"The changes are customer-centric," said Elaine Costa, Plush Swimwear's Managing Partner. "A significant amount of time was spent analyzing our customers' preferences to develop a visual identity and introduce features that are representative of and in alignment with our customer profile. Our new logo and cleaner web design embody the Plush Swimwear customer – a modern, on-the-go woman, who is fashion conscious and in tune with the latest swimwear trends."
Along with the new branding, Plush Swimwear is introducing new functionalities that will improve the way visitors explore products and interact with the website. Key updates include an improved search and filtering system, easier-to-navigate menu and design, addition of a mix-match bikini lab, ability to quick-shop products, and expanded swimwear-related fashion content - with more features to come. "We have a fantastic team of swimwear enthusiasts in-house," says Elaine. "Providing visitors with quality, up-to-date trend reports was always part of our mission, so we made it easier for visitors to find this information by producing it in an e-magazine format, and placing it under our 'Features' section". The updated design and functionalities are also scalable to a number of mobile and portable devices such as smart phones and tablets.
To access the Plush Swimwear website, please visit:
http://www.plushswimwear.com
About Plush Swimwear
Plush Swimwear is a leading online retailer specialized in women's luxury and designer swimwear, dedicated to providing worldwide customers with the most stylish and sophisticated swim apparel available and an enjoyable online shopping experience.
For more information about Plush Swimwear, please visit:
http://www.plushswimwear.com