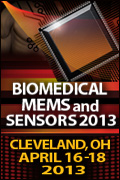 The biomedical MEMS device market size is currently approximately $1.7 billion.
Elyria, Ohio (PRWEB) March 20, 2013
The biomedical MEMS device market size is currently approximately $1.7 billion. In these applications, it is advantageous to miniaturize currently available components and systems due to form factor and cost considerations. Furthermore, many applications are newly enabled by MEMS technologies and would not be possible at all without miniaturization.
MEMS Journal and SMART Commercialization Center for Microsystems are hosting the Biomedical MEMS and Sensors 2013 conference and exhibition on April 16-18, 2013 in Elyria, Ohio. For more information about the conference, please go to http://www.biomems2013.com.
Here are the sessions and topics covered at the conference:
Micro and Meso Technologies for Disease Diagnosis
Microfluidics – the use of microscale structures to manipulate micro- and nanoliter volumes of fluids – has been an active topic of research for decades. One of applications most expected to benefit from microfluidics is diagnostics. Microfluidic technologies offer the potential of replacing an entire laboratory with a handheld device. The conference session on this topic will explore the current state of microfluidics and examples of how the long envisioned potential of these technologies are being realized in commercial products.
Microtechnologies for Health Monitoring
There is huge growth potential for MEMS and sensor devices that enable products for monitoring human health. With the "commoditization" of MEMS in the consumer electronics arena, the opportunities for microtechnologies applications for health monitoring seem to be endless as the potential for low cost devices can drive down the soaring costs of healthcare. This conference session will provide insights to the regulatory environment for new products in established markets, a commercialization pathway for new disruptive technologies, and glimpses of the commercial and technical challenges associated with products that hope to leverage the performance and economic gains of miniaturization.
MEMS and Sensors for Sports Applications
The market for MEMS motions sensors continues to climb as new applications are developed by a growing cadre of researchers and companies large and small. Further penetration into the marketplace of 6DoF devices over the next 3 years will be a key enabler for healthcare/medical related applications, as well as sports. There are various factors associated with sensor and complete systems development which are key to help push the type of volume needed for sports applications to go beyond a highly specialized niche to a growing commercial market. It is quite likely this market segment alone will reach over $1 billion in revenue within the next five years. This conference session will cover some recent advancements in the industry's leading motion sensor technology.
Microtechnologies for Neural Interfaces and Prosthesis
This conference session will focus on microsystem technologies that are impacting the field of neural prostheses. The speakers will highlight present and future opportunities in that field by presenting three applications at different stages of their technological life. The session will cover exciting opportunities and to examine streamlining the commercialization of MEMS enabled neural prostheses. Topics covered in this session will include a neural prosthetic on the mass market (the cochlear implant) that is being re-engineered using MEMS microfabrication technologies to improve performance, reduce cost and increase clinical deployment, a neural prosthetic in the midst of translation to the mass market that began development during the MEMS boom of the late 1990s and benefited from the engineering and design insights of the MEMS field, and a neural prosthetic in its infancy (the vestibular implant) that is integrating MEMS sensors and microfabricated electrodes in a single implantable system.
MEMS and Microfluidics for Drug Delivery
Drug delivery technologies have evolved since ancient Egyptian times from simple pills to the intravenous infusion devices to the recently approved "digital medicines" consisting of pills with integrated ingestible microelectronic sensors. This long history of innovations in delivery of medicines is spurred by the need for efficient and effective drug management of health conditions. Recent advances over past few decades in drug delivery and infusions harness both MEMS and microfluidics technologies. This conference session will focus on the use of novel technologies and cover the current status of development of different drug delivery techniques.
About MEMS Journal, Inc.
MEMS Journal is the largest MEMS publication worldwide. We cover the most notable MEMS news and developments to ensure that our subscribers explore and take advantage of the latest business development, commercialization and partnership opportunities. We provide the following services:

executive and engineering recruiting
marketing and advertising
intellectual property brokerage
MEMS and semiconductor equipment brokerage
market research and intelligence
We were founded in 2003, currently have 28,700+ subscribers worldwide and attract top-level executives, engineers and researchers who are active participants in the MEMS community. For inquiries, please email us at info(at)memsjournal(dot)com. For more information, visit http://www.memsjournal.com.
About SMART Commercialization Center for Microsystems
The SMART Commercialization Center for Microsystems is a unique, industry-focused resource for taking MEMS, sensors, microsystems and other designs to commercial reality. With a complete set of tools for microsystems packaging, reliability testing, inspection and design, along with process development services, office space and talent, the SMART Center is a tremendous resource to the microsystems community. SMART is located on the campus of Lorain County Community College in Elyria, OH, just west of Cleveland. For more information, visit http://www.smartmicrosystems.com.