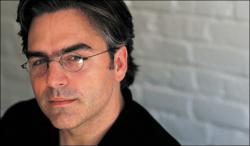 "Phil's passion for showing others how to make design a sustainable practice will ensure our graduates leave the Academy of Art with a deeply seated reverence for that mission." -- Mary Scott, Chair, School of Graphic Design
San Francisco, California (PRWEB) March 21, 2013
Phil Hamlett, graduate director of Academy of Art University's School of Graphic Design, was recently voted one of the industry's most influential graphic designers by Graphic Design USA magazine. In addition to preparing students for the creative and design jobs of the 21st century at the Academy of Art, Hamlett sets the agenda for sustainable business practices within the design community in his roles as the founder of Compostmodern, one of the principal architects of the Living Principles and member of the AIGA board of directors. Prior to joining the Academy of Art University in 2004, Hamlett was communications director at Turner & Associates. His previous clients include Yahoo!, Adaptec, Macromedia, Ariba, PeopleSoft, IBM, AT&T, The Coca-Cola Company, Clorox, Seagate Technology, Turner Broadcasting, Nabisco, Dickson's Specialty Printing and Anderson Lithograph.
"It is not often that a designer like Phil Hamlett makes the decision to become an academic," said Mary Scott, Chair, School of Graphic Design. "I feel so fortunate that he did and that he brings his passion for showing others how to make design a sustainable practice each day he is in the classroom. There is no doubt in my mind that our graduates will leave here with a deeply seated reverence for that mission."
To view Graphic Design USA's survey, visit: http://www.gdusa.com/issue_2013/january/most-influential-designer-current.php
To learn more about the Academy of Art University's School of Graphic Design, visit:
http://www.79nm.com/
http://online.academyart.edu/schools/graphic-design
About Academy of Art University
With more than 18,000 students, Academy of Art University is the nation's largest private art and design university. Established in 1929, the school offers accredited AA, BA, BFA, MA, M.Arch and MFA programs in 21 different majors, as well as continuing art education, with classes in Acting, Advertising, Animation & Visual Effects, Architecture, Art Education, Art History(BFA), Fashion, Fine Art, Game Design, Graphic Design, Illustration, Industrial Design, Interior Architecture & Design, Jewelry and Metal Arts, Landscape Architecture, Motion Pictures & Television, Multimedia Communications, Music Production & Sound Design for Visual Media, Photography, Visual Development and Web Design & New Media. Students can also enroll in flexible online degree programs in most majors. Academy of Art University is an accredited member of WASC (Western Association of Schools and Colleges), NASAD (National Association of Schools of Art and Design), Council for Interior Design Accreditation (BFA and MFA-IAD) and NAAB (M-ARCH). For more information, visit http://www.academyart.edu or call 1-800-544-2787.