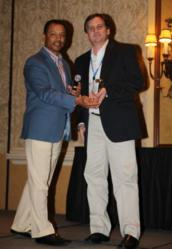 Our goal is to provide energy saving solutions to homes and businesses by supplying the highest quality products available with a commitment to superior customer service
Ocala, FL (PRWEB) March 26, 2013
Hüper Optik USA, a pioneer of the first Multilayered, true nano-ceramic window film, has awarded the National Horizon Award – Large Market to The Solar Guys of Summerfield, FL. This award is given to an innovative company that has shown significant and consistent growth. Pictured are Bryan Lyles – Director of Sales- The Solar Guys and Faisal Nazir, CEO of Huper Optik USA.
"They have shown an incredible skillset for growing a new product line in an aggressive market place." said Jason Giavotella, Regional Sales Manager of Hüper Optik USA.
The Solar Guys have been servicing Central Florida since 2001. They expanded their business with the addition of Huper Optik Smart Window Films to add to an extensive line of energy efficiency products. "Our goal is to provide energy saving solutions to homes and businesses by supplying the highest quality products available with a commitment to superior customer service." Said David Gavidia of The Solar Guys. "2012 was all about integrating Huper Optik in to our family of products, introducing the product to our core market, and building the infrastructure required to position us for growth."
The Solar Guys are looking to capitalize on a stabilizing economy by expanding our proven residential sales system. They are targeted to expand and integrate the company with the greater commercial ESCO market space. "We welcome the opportunity to "Plug In" to the Huper Optik dealer network and we are excited about the opportunities that will afford all in the year ahead." Said David.
Huper Optik USA is a market leader in German engineered, multi-layers nano-ceramic and traditional solar control film technology, providing energy savings and security solutions for commercial, residential, automotive and marine industries through a strategic network of authorized dealers in the United States, Mexico, South America and Canada. The company, which celebrated its 10 year anniversary in 2010, is known for its innovations in ceramics, including its patented dual layer, nano-ceramics, neutral toned products, with low interior reflectivity. For more information or to become a dealer visit http://www.huperoptikusa.com or contact communications(at)huperoptikusa(dot)com