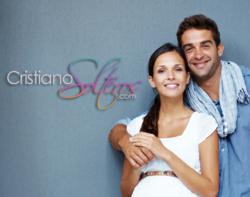 We want to do everything in our power to assure the safety of our clients.
Torrance, CA (PRWEB) March 22, 2013
Latin dating site CristianoSolteros.com reported that it will soon be contacting members with reminders about how to safely engage in Internet dating. This special educational information comes on the heels of a story reported by CBS affiliate WAFB on February 19, 2013, concerning a California man charged with the rape of a woman he met on a different Christian dating site (ChristianMingle.com). Entire story can be found on http://www.wafb.com/story/21255663/man-suspected-of-raping-women-found-on-christian-dating-site.
"It is appalling to hear about what this man is alleged to have done," said Maggie Danhieux, a spokesperson for CristianoSolteros.com, "and it serves as a reminder that there's a darker side to what should be a special activity for our members. We want to do everything in our power to assure the safety of our clients, so we are taking steps to keep them informed on red flags to be cognizant of when meeting others over the internet."
The first step, according to Danhieux, in safely dating online is by choosing a reputable dating service. "Our dating service is part of a network of dating sites that has been around since the late 1990s," said Danhieux. "There are new sites that pop up every day that serve as a breeding ground for devious characters, so whether it's us or another site, users should always choose a service that is trustworthy."
Keeping meetings public until you know someone well is Danhieux's next surefire way of staying safe when dating online. "Whether it's your home or theirs, the easiest way to stay safe when meeting someone for the first time is to be amongst others," said Danhieux. "Appearances can be deceiving, so a good first impression isn't necessarily the real person you will always get."
While staying in public goes for initial encounters, Danhieux advises to keep private information exactly that – private. "Financial information especially, but it's also important to keep simple things like your address and even your neighborhood to yourself until you feel you really know someone," said Danhieux.
Danhieux recommends such initial secrecy not only you keep users out of harm's way physically, but also to avoid falling victim to scams that have been reported in a report issued by the Federal Bureau of Investigation this past Valentine's Day. These cons, which have swindled online dating users in sending money, phony checks and stolen goods, have occurred before two parties had met. "The criminal element is well versed in persuasion," said Danhieux, "so it is vital that our members never entertain notions such as sending someone money before they have even met a person. Thankfully, our clients have not reported any of these situations happening to them."
About CristianoSolteros.com
Part of a leading Christian dating network established in 1997, CristianoSolteros.com is unique in its approach: all of its members are committed to seeking out long-term, faithful relationships. Unlike most dating sites, dating services within the network do not allow casual dating. The sites of this Latin dating community have gained great popularity and are frequented by Christians from all over the world. An approved member of the BBB online Reliability Program, Christian Singles Commitments Corp is committed to providing safe and secure online dating.