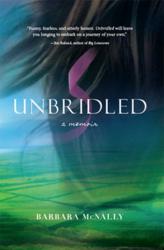 San Diego, California (PRWEB) March 21, 2013
It was a liberating divorce and the loss of her identify as the 'perfect wife' that made Barbara McNally realize she had no idea who she truly was; but, it was the discovery of a racy photograph of her naked grandmother that inspired her to do something about it.
Chronicling her escape from a self-made prison to joyful independence, McNally's tell-all memoir, Unbridled, shares her journey from confided predictability to empowered authenticity.
As she embarks on an exhilarating adventure of self-discovery, McNally invites readers along as she communes with Wiccan priestesses, indulges in an erotic encounter amidst an ancient castle, liberates herself at a clothing-optional Hedonistic resort, revels with free-spirited Rastafarians, and takes the stage as a burlesque dancer.
Candidly exposing her own faults and the lessons learned along the way, McNally makes no excuses as she shatters expectations, indulges her sexuality and embraces her individuality on her road to freedom.
Sensual, soulful and unpredictable, Unbridled inspires readers to live without regrets and find their own independence and freedom.
Dedicated to empowering women to embrace their own potential, McNally established the Mother, Lover, Fighter, Sage foundation to provide scholarships, workshops and seminars to enhance the life of women. The foundation highlights the four dimensions of herself that Barbara experienced on her journey: nurturing, sensual, assertive, and spiritual. All proceeds from Unbridled will go to the foundation to support its programs and projects.
Unbridled: A Memoir
By Barbara McNally
Website: http://unbridledfreedom.com/
Available at http://www.amazon.com and http://www.barnesandnoble.com
About the author
Barbara McNally lives in San Diego where she supports organizations and activities that help women explore their potential for freedom and individuality. To further this cause, McNally founded Mother, Lover, Fighter, Sage, a foundation dedicated to providing women with opportunities for growth and self-discovery. With a zest for living large, McNally is an advocate for new adventures and no regrets.
# # #