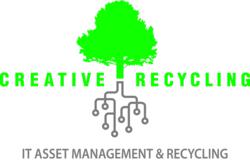 Hartford, CT (PRWEB) March 20, 2013
Creative Recycling Systems (CRS) is pleased to announce approval from the State of Connecticut (CT) to offer electronics recycling services as an approved Covered Electronics Recycler (CER). CRS successfully completed the application and passed the diligence process performed by the Connecticut Department of Energy and Environmental Protection authorities.
The application process to become a CER for The State of Connecticut encompasses a rigorous audit of collections, transportation management, first level recycling, best practices, certification credentials, and an in-depth audit of specific materials of concern throughout downstream supply channels. This thorough process further protects the integrity of the State and how its end-of-life electronics are handled.
This is familiar territory, CRS works alongside the Department of Administrative Services in Connecticut as a State Contractor, they are the responsible recycler for the Disposal of Electronic Office Equipment. Playing a dual role as an approved CER and State Contract holder, CRS further provides State Agencies, Education, Local Government Institutions and Municipalities the ability to maximize benefits of electronic waste recycling programs - including special pricing and terms.
"We take pride in being the most certified IT Asset Management and Recycling Company in the nation, and providing industry leading solutions in Connecticut," said Rick Bates, CEO of Creative Recycling Systems. "Since the award we have added new customers in Connecticut, saving those customers thousands of dollars and securing their end of life electronics to the best disposal process in the US."
Customers find peace of mind from CRS 19-year history of providing end-to-end electronic recycling services. Electronics recycling services includes; collection, packaging, transporting and processing all covered electronic devices and other electronic devices. Additionally, through CRS strategic alliance with Waste Management®, CRS customers have the ability to recycle universal waste materials such as; fluorescent lamps, batteries and other non-liquid containing devices.
About Creative Recycling Systems:
Creative Recycling Systems (CRS) is an IT Asset Management and Recycling company that provides state-of-the-art lifecycle management solutions for surplus, obsolete and end-of-life electronic products. It yields the highest value for its customers while producing the smallest environmental footprint available in the world. Recognized as a worldwide leader in the electronics recycling industry, CRS' 19 years of success has been built on environmental stewardship, developing and utilizing state-of-the-art processing technology, managing assets, data security and commitment to customer service. CRS has Nationwide capabilities, has also been featured as a National Geographic Creative company, and holds certification credentials for: e-Steward®, ISO9001, ISO14001, R2/RIOS, OHSAS 18001 and CHWMEG. For more information visit CRSeRecycling.com and connect on LinkedIn Creative-Recycling-Systems
For more information contact:
Creative Recycling Systems, LLC.
Brad Brown
Strategic Business Development
CRSeRecycling.com
(607) 759-5446
BBrown(at)CRSeRecycling(dot)com
Connecticut Department of Energy and Environmental Protection
Mark Latham
Program Lead
ct.gov
(860) 418-5930
Mark.Latham(at)ct(dot)gov
###