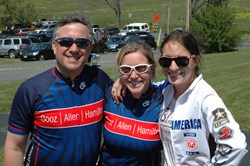 The opportunity to support wounded warriors and the unique experience this ride provides has been humbling and inspiring.
Arlington, Virginia (PRWEB) March 20, 2013
Two sisters whose father served as a Lt. Colonel in the US Army are stepping up in support of World T.E.A.M. Sports' annual Face of America ride honoring disabled military veterans.
The annual bicycle ride from the Pentagon to Gettysburg this April 26-28 will feature nearly 30 participating teams and more than 500 riders, including 100 disabled veterans.
Rachel and Amanda Jacob, sisters and team mates on the Booz Allen Hamilton team, have arranged with Arlington, Virginia's Mad Rose Tavern for an extended "Happy Hour" fundraiser in support of the Face of America April 3. From 5:30 to 9 p.m. at the Clarendon neighborhood restaurant, team members and their supporters will enjoy good company, beverages and food in honor of the participating veterans. The Mad Rose is donating ten percent of the food and beverage purchase amount to Face of America and World T.E.A.M. Sports.
"Not only is the Face of America ride a great event because it honors our wounded soldiers, but it's also a great a way to meet new people who enjoy being active and making new friends," said Rachel Jacob, one of the fundraiser hosts. "I have met many people along the route from DC to Gettysburg that will a part of my life, for the rest of my life."
"I first rode the two-day, 110-mile Face of America bicycle ride from the Pentagon to Gettysburg in 2010 and have looked forward to this event every year since," said Amanda, also a host. "I enjoy biking and when I learned about this ride through the Booz Allen Bike Club, I knew it was something I wanted to participate in and have had the pleasure of riding side-by-side with my sister each year."
One of the largest teams registered for the 2013 ride with 29 members, the Booz Allen Hamilton team is enthusiastic in their support of the event and the participating disabled veterans. In 2012, the team raised the most donations of any of the teams in the ride. For 2013, the team leaders intend to continue that support.
"Rachel and I grew up Army brats," said Amanda. "[We] have a lot of friends who serve, and have worked for the Department of Defense so the military community is near to our hearts. The opportunity to support wounded warriors and the unique experience this ride provides has been humbling and inspiring. I look forward to another amazing ride next month!"
"My first Face of America ride was four years ago," recalled Rachel. "I woke up that Saturday morning excited and nervous; I didn't know what to expect. Before the ride even started, I had already met so many amazing and inspiring people. Throughout the ride, I spoke with wounded warriors, soldiers, and civilians who were all there for the same reason - to honor the men and women who were wounded while in service to our country." An avid runner and a Special Education teacher, Rachel reports that she started cycling five years ago. "I have always been interested in working with individuals with cognitive and physical disabilities," she said.
"I was a novice biker my first year riding in Face of America," said Amanda, an Air Force employee working at Joint Base Andrews. "At that time I only owned a mountain bike. Rachel only had a hybrid bike. We both decided we would give it a try with those bikes and although we have road bikes now, we've carried on the tradition and still use the other bikes."
"My sister and I are popular on the ride because we are some of the few on mountain bikes while everyone else is on road bikes," said Rachel. "It's one of the most inspiring events I have ever participated in and I plan to continue to participate throughout the upcoming years."
Registration is open for the Face of America, which features two new metric century loop rides from Gettysburg, in addition to the traditional Pentagon to Gettysburg route. Participants ride together with veterans with disabilities, rather than in separate groups. Each participant helps raise funds to support the participation of the disabled riders, with any remaining funds applied to other World T.E.A.M. Sports events.
World T.E.A.M. Sports is a 501(c)(3) not-for-profit organization chartered in North Carolina and headquartered in Holbrook, New York. Celebrating 20 years, World T.E.A.M. Sports organizes athletic events for disabled and able bodied citizens – mountain climbing, white water rafting, biking, and more. At our events, (1) Disabled participants build self-confidence and physical fitness; (2) The disabled provide a role model for other disabled citizens, encouraging them to take up physical activities; (3) The disabled become a moving inspiration to other participants and to spectators when they see that disabled individuals can meet challenges beyond anyone's imagination; and (4) The disabled and able-bodied participants learn to work as a team to overcome those challenges. World T.E.A.M. Sports changes lives through sports.