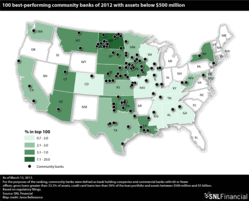 Charlottesville, VA (PRWEB) March 20, 2013
Announced today, SNL Financial released its annual ranking of 2012's top 100 best performing banks in two categories: community banks with assets between $500M and $5B and community banks with assets less than $500M. Of the companies with assets between $500M and $5 B, Rowland Heights, Calif.-based First General Bank took command of the No. 1 spot. The company ranked sixth the previous year.
SNL ranked the best-performing community banks using six core financial performance metrics that focus on profitability, asset quality and growth for the 12-month period ended Dec. 31, 2012. The metrics used were: return on average tangible assets before tax, net charge-offs as a percentage of average loans, adjusted Texas ratio, efficiency ratio, net interest margin and loan growth. SNL measured each company's standard deviation from the mean of each metric. The standard deviations, which are each equally weighted, were added together to calculate a performance score for each company.
First General was able to improve on five of the six metrics used for the ranking from last year. The company posted strong loan growth of 29.2%, which was less than the previous year due to its two acquisitions in 2011 that more than doubled its portfolio. The California bank has historically had a majority of its loan concentration in commercial real estate loans, but over the course of the year it built up its commercial and industrial portfolio and grew its loans to depository institutions from zero to $48 million by the end of 2012. These two loan types made up 21.1% of its total portfolio, as compared to just 7.9% to start the year.
Pacific Premier Bancorp Inc. landed the second spot in the 2012 ranking, up six slots from last year. The company benefited from acquiring Palm Desert National Bank through an FDIC transaction in April that translated into a $5.3 million gain. On March 18, the company completed its acquisition of First Associations Bank, which strengthens its servicing of homeowners association and HOA management companies nationwide. The company also has a pending transaction to acquire San Diego Trust Bank, which will expand its footprint south into the San Diego market.
California Republic Bank took third in the 2012 ranking. The company boasted a strong net interest margin of 5.58% for the year and had the lowest adjusted Texas ratio of a company in the top 25.
Methodology: To compile this ranking, SNL defined community banks as institutions with between $500 million and $5 billion in assets and with 60 or fewer offices. Also, at least one-third of the banks' balance sheets must be composed of loans, and they cannot have more than half of their loans in credit cards. Banks with a majority of revenue derived from nontraditional banking activities or that were not well-capitalized were excluded. SNL ranked companies at the bank holding company level if consolidated data was reported. Otherwise, commercial bank subsidiary data was used. Thrifts were excluded. Companies that have parents with assets above $5 billion are excluded. Based on the described criteria, 765 companies were eligible for the rankings.
Click here to see the top 100 community banks between $500 million and $5 billion in assets.
Click here to read the story on SNL's 2011 ranking of the top community banks between $500 million and $5 billion, and click here to see the full 2011 list.
To see the story on the top 100 community banks with less than $500 million in assets for 2012, click here.
Recognition: SNL will recognize the top performers in person at the second annual SNL Community Bankers Conference, April 4-5, at the Ritz-Carlton Lodge at Reynolds Plantation, outside of Atlanta, Georgia. The conference features community bankers and advisors from across the country sharing operational and financial strategies they've found useful in driving profitability. Details and registration can be found at the SNL Knowledge Center's website.
About SNL Financial
SNL Financial is a leading provider of financial information on more than 6,500 public companies and 50,000 private companies in the business sectors critical to the global economy: Banking, Financial Services, Insurance, Real Estate, Energy, Metals & Mining, and Media & Communications. The SNL information service integrates breaking news, comprehensive data and expert analysis into an electronic database available online and updated around the clock. For more information, visit http://www.snl.com.
SNL Financial
One SNL Plaza
Charlottesville, VA
22902
434.977.1600
Other office locations:
New York London Hong Kong
Visit SNL in the Media to learn more about resources available to members of the media.
###