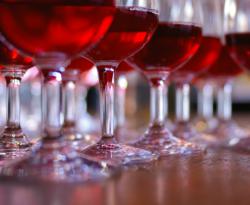 Consumers are willing to spend more for a glass of Oregon wine because they expect high quality, says Linfield College Professor Sharon Wagner.
McMINNVILLE, Ore. (PRWEB) March 21, 2013
The research, conducted by Linfield College Professor Sharon Wagner, queried more than 1,000 consumers and more than 300 wine distributors and buyers from across the country, asking them about their perceptions of Oregon wine.
Essentially, the study asked: Why do people buy Oregon wine, and what do they expect when they drink it?
Many respondents had attended Oregon wine events, such as the International Pinot Noir Celebration held at Linfield each year, but were primarily located out of the state. In other words, they were familiar with Oregon wine but didn't necessarily live down the road from one of the state's vineyards or wineries.
"Findings showed that U.S. consumers view Oregon wines as having a handcrafted appeal, and even envision small family farms," Wagner said.
Study participants were willing to spend a bit more for a glass or bottle of Oregon wine because they expected high quality, and they got it. They rated Oregon wine high for taste perceptions. Being familiar with a specific label or with one of the state's wine regions also influenced their purchase decision.
How do consumers compare Oregon and California wines? The findings suggest wine drinkers and decision-makers see California wines as more likely to be mass produced, and believe Oregon wines offer better value for the price.
Unfortunately, study results confirm earlier findings: Consumers say it's more likely they'll find California wines on store shelves. That means marketers for the state's $2.7 billion industry have their work cut out for them. The brand promise showcases the uniqueness of Oregon wines, but the product is not always easy to locate.
"The study is a testament to the distinctive character of Oregon wines and their exceptional breadth and depth," said Charles Humble, communications director for the Oregon Wine Board.
In 2011, Linfield College established the Oregon Wine History Archive, which chronicles the Oregon wine industry and includes historical documents from early wine pioneers. The small college is located near the birthplace of the earliest vineyards in Oregon's fertile Willamette Valley, and hosts thousands of wine aficionados on its park-like campus at the annual International Pinot Noir Celebration.
Wagner's findings are preliminary, and more complete results will be available after publication. The research was conducted in partnership with the Oregon Wine Board and the Willamette Valley Wineries Association, and with the help of Linfield College students through the school's Community-Engaged Research to Classroom Program.