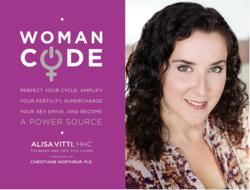 (PRWEB) March 19, 2013
HarperOne announces today the release of WomanCode: Perfect Your Cycle, Amplify Your Fertility, Supercharge Your Sex Drive, and Become a Power Source by Alisa Vitta, Holistic Health Counselor and founder of FLO Living.
Vitti, known as a "miracle worker" and tireless champion for women, understands modern women and the affects of today's diet, lifestyle, and environmental influences on their bodies. When our hormones are out of whack, women suffer everything from acne and dandruff to fibroids and thyroid conditions, and modern gynecology can't keep up with these demands. In WomanCode, Vitti addresses endocrine disruption – the epidemic wreaking havoc on the health of women everywhere – and shows women how to take back control of their health and create their very best life.
ABOUT THE AUTHOR
Alisa Vitti, HHC, AADP (Holistic Health Counselor, American Association of Drugless Practitioners) founded the FLO Living Center (http://www.FLOliving.com) in Manhattan ten years ago after healing from PostCystic Ovarian Syndrome. She received degrees from Johns Hopkins University and the Institute of Integrative Nutrition. She and her work have been featured in Dr. Christiane Northrup's revised edition of Women's Bodies, Women's Wisdom.
WomanCode
Perfect Your Cycle, Amplify Your Fertility, Supercharge Your Sex Drive, and Become a Power Source
By Alisa Vitti
HarperOne, an imprint of HarperCollinsPublishers
March 19, 2013 | Hardcover |$25.99 | ISBN: 9780062130778