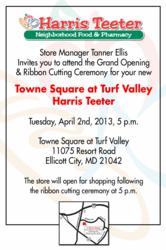 Charlotte, N.C. (PRWEB) March 26, 2013
On Tuesday, April 2, 2013, Harris Teeter is offering customers 10 percent off their purchase at their new Towne Square at Turf Valley Harris Teeter in Ellicott City, Md., valid 5 p.m. – 10 p.m. The discount is just one way Harris Teeter is celebrating its grand opening; the company will also be sampling specific Harris Teeter Brands found throughout the store.
All Harris Teeter shoppers with a Very Important Customer (VIC) card will be eligible for the 10 percent discount. All discounts will be targeted to shoppers' VIC cards, and the maximum discount awarded will be $100, after all other coupons and VIC discounts are deducted. The discount is available on one single transaction.
Community members who do not have a VIC card can save time by filling out the VIC application and bringing it with them to the store.
"Harris Teeter is excited to welcome shoppers to their newest Harris Teeter location in Maryland," said Danna Jones, communication specialist for Harris Teeter. "The additional discount is a way for us to celebrate the occasion and welcome shoppers to their brand new store."
Harris Teeter will also waive the fee on all Express Lane Online Shopping orders at this location between April 3, 2013 and April 30, 2013. The company will also take an additional $5 off your first four Express Lane Online Shopping orders of $40 or more.
The company has other activities scheduled for subsequent weekends at the Towne Square at Turf Valley location to celebrate its grand opening:
April 5 - 7: e-VIC Sign-Up, helping shoppers sign-up for e-VIC
April 12 - 14: Rancher Mobile, serving samples of Harris Teeter Rancher Beef
April 19 - 21: Ice Cream Truck, serving samples of Harris Teeter Ice Cream
For more information about your Towne Square at Turf Valley Harris Teeter, please visit harristeeter.com.
About Harris Teeter
Harris Teeter Inc., with headquarters in Matthews, N.C., is a wholly-owned subsidiary of Harris Teeter Supermarkets, Inc. (NYSE: HTSI). Harris Teeter is the 23rd largest supermarket in the U.S. with 2012 sales of $4.54 billion. The regional grocery chain employs approximately 25,000 associates and operates stores in North Carolina, South Carolina, Virginia, Georgia, Tennessee, Maryland, Delaware, Florida and the District of Columbia.