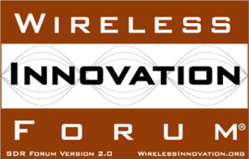 Effective spectrum sharing is going to require a shared understanding of current and future wireless receiver system performance.
Washington, DC (PRWEB) March 21, 2013
The http://www.WirelessInnovation.org, a non-profit international industry association dedicated to driving the future of radio communications and systems worldwide, announced today the approval of a project aimed at creating a report on Receiver Performance Guidelines and Evaluation Criteria. Led by Bruce Mueller of Motorola Solutions, the project is for regulators, designers, manufacturers and users of wireless communications who are developing wireless policy and equipment to access shared spectrum or to coexist with adjacent spectrum uses while understanding impact to current spectrum users.
"Effective spectrum sharing is going to require a shared understanding of current and future wireless receiver system performance," says project leader Mueller. "By utilizing the many stakeholder members of the Forum, we will provide tools to enable and evaluate the use of shared spectrum radio systems in the future."
This project will identify the critical receiver parameters required in order to enable spectrum sharing systems in existing bands and will evaluate the current and expected receiver performance criteria for existing systems for effective protection. The project will survey/solicit measurements of existing systems in bands and markets of interest to the Forum membership, including the military, public safety, satellite and commercial markets.
The resulting report from the project, anticipated to be complete September 2013, will contain a set of actionable guidelines to design and evaluate the performance of receivers that will coexist in shared and adjacent spectrum bands. It will include specific guidelines for characterizing receivers to enable the design and evaluation of shared and co-existing spectrum communications systems that can be used as a foundation for future radio systems.
The Forum encourages participation from organizations wanting to be involved in this important project. Please contact Forum CEO Lee Pucker at Lee.Pucker(at)WirelessInnovation(dot)org if you are interested.
Wireless Innovation Forum member representatives have initiated and led multiple work efforts that promote their organization's specific objectives through the creation of reports, recommendations and specifications that are widely used by the advanced wireless community. The importance of these "work products" is reflected in the fact that over 12,000 individual documents were downloaded from the document library in 2012 alone. Additional information about the Forum's groups and projects can be found here: http://www.wirelessinnovation.org/Current_Projects.