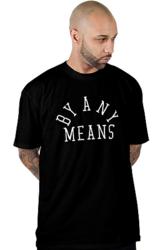 Boston, MA (PRWEB) March 20, 2013
Karmaloop.com, the leading online retailer for urban clothing and streetwear, today released a new music video featuring rapper Joe Budden performing the song "Castles" and wearing hip hop fashion from By Any Means Apparel, a brand that Budden has endorsed. The video and the clothing brand may be viewed online at streetwear.karmaloop.com/klcontent/plus/by-any-means.
Joe Budden is a New Jersey native who is both a solo artist and a member of the group Slaughterhouse, which is signed to Eminem's Shady Records label. He is currently starring VH1's Love & Hip Hop series. His latest album, No Love Lost, was released in February.
"By Any Means is symbolic to me…of all the hard work I had to do to get here," said Budden. The rapper signed onto the hip hop streetwear label when he was approached by Aristotle Torres, the multimedia director/producer and the man behind the By Any Means brand. While Budden said he appreciates the brand's street style, affordability and comfortable fits, he was most drawn to its philosophy. "The most important thing to me is that it stands for something…whatever you are, whatever your craft is, whatever your talent is, you just work hard to pursue your dreams by any means necessary."
"We're really happy about this collaboration with Joe Budden, and to offer By Any Means Apparel on our website – it's some of the hottest streetwear fashion out there," said Karmaloop founder and president Greg Selkoe. "The By Any Means collection on Karmaloop includes t-shirts, crewnecks, hoodies and jackets. Joe Budden fans will definitely want to check out the video at KarmaloopTV.com, and the By Any Means men's streetwear on Karmaloop.com."
About Karmaloop.com
Karmaloop.com is the leading online retailer for global urban clothes and street wear, with more than $130 million in annual sales. Karmaloop receives more than 4.5 million unique visitors from 40 countries each month, and retails more than 500 urban fashion brands designed for the "Verge Culture" -- a multicultural demographic that is 18 to 34 years-old and often referred to as the first generation that grew up with the Internet. KarmaloopTV, Karmaloop.com's online video channel, features exclusive interviews with designers, street fashion brands, artists and musicians, as well as behind-the-scenes coverage of events and parties, which emphasize the street culture phenomenon at large. From educational political content, to entertaining celebrity interviews and informational segments on the hottest new urban wear brands, KarmaloopTV is the world leader for youth culture. KarmaloopTV's current programming has expanded to include regular programs such as: The Buyer Wire, The Daily Loop, Globaloop, The Johnny Polygon Show, The Kelly Show, and Their Words.