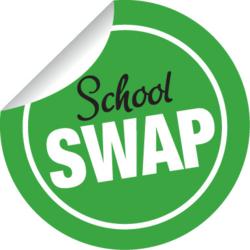 As an environmentally-friendly fundraiser, School Swaps advocate a reuse and recycle initiative in the community.
Gainesville, VA (PRWEB) March 20, 2013
MySchoolSwap.com—a free classified advertising network created for schools and the communities that surround them—offers a step-by-step guide on how to hold a School Swap Fundraiser. This lively event is a practical and environmentally-friendly approach to raising funds. Instructions and free promotional materials are available to download at MySchoolSwap.com.
Swaps have become an emerging trend across the country—clothing swaps, book swaps, media swaps and even home swaps. The basic premise of a swap is simple—individuals arrive at a designated location with items they no longer want and exchange them for items of similar value. Swapping is a cost-effective and sustainable way to update a library, wardrobe or child's toy collection. Home swaps, which are found mostly online, provide a way for vacationers to explore new parts of the world without rental expense.
MySchoolSwap has created guidelines that enable school fundraising leaders to embrace this popular trend. A School Swap is held at a school as a fundraising event and can be open to the public. With swapping, there is no exchange of currency, just items. Schools earn money by charging a flat admission fee and selling concessions or spirit wear.
The simple instructions include planning, preparation and communication. A Flyer, as well as a Credit Sheet used for tracking donated swap items, is available to DOWNLOAD. MySchoolSwap can also customize documents upon request.
The benefits of a School Swap include a decent profit in a short span of time without relying on product sales, student collections or overhead expenses. Also, as an environmentally-friendly fundraiser, School Swaps advocate a reuse and recycle initiative in the community.
The resale industry is growing. Consignment stores and thrift stores are thriving. People love bargains. A School Swap is a new and unique approach to green school fundraising that the whole community will enjoy.
Swappers can continue to barter with their neighbors on MySchoolSwap.com. The Swap Category allows members to initiate swaps by posting free ads in Have It or Want It. Schools can also promote their School Page to encourage sponsors to participate. MySchoolSwap donates 50 percent of all sponsored ads to school nationwide. A School Swap can potentially lead to a year-round, ongoing fundraising program that serves everyone.
For more information visit MySchoolSwap.com. To connect with My School Swap, LLC call (703) 754-8410 or visit http://www.myschoolswap.com.
About MySchoolSwap.com
MySchoolSwap® is a free classified advertising network that sets itself apart from typical classified advertising web sites by donating a percentage of sponsored ad revenue to schools and by providing a national network for the school community. It officially launched in April of 2012 and within the first five months of operation, the company sent payments to ten schools in three states. MySchoolSwap has an expandable database of 134,000 preschools, elementary and secondary schools across the United States to include public and private. My School Swap, LLC was founded by Cathy and Tim Shalvey of Gainesville, VA and is supported by an Advisory Board with expertise in areas of internet privacy law, search engine optimization, affinity marketing and education. More information about the leadership team can be found at http://myschoolswap.com/about/our-story.aspx
###