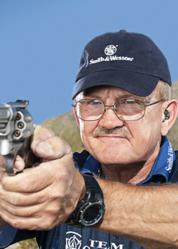 This was one of the most difficult matches I have participated in.
Grand Island, NE (PRWEB) March 21, 2013
Team Hornady member, Jerry Miculek, won the Enhanced Service Revolver Division of the 2013 S&W IDPA Indoor Nationals, shooting Hornady 230 grain FMJ reloads. As a Distinguished Master, Miculek dominates this division with his consistent ultra speed shooting skills.
"I shot Hornady 230 grain FMJ reloads in my JM 625 S&W 45 Auto revolver," said Miculek, "because they're fast reloads with the power factor for a reliable performance. This match was extremely well organized, and deceivingly difficult with courses of fire that combined no-light and low-light scenarios."
Fellow team member Bobby McGee finished strong in the Stock Service Pistol Master Division, shooting Hornady 147 grain FMJ reloads in his S&W M&P 9mm pistol. "The high quality, superior accuracy, and 100 percent feeding reliability of Hornady 147 grain FMJ bullets made a winning difference," said McGee.
The 16th annual event at the S&W Shooting Center in Springfield, Mass. drew 320 shooters. The sport simulates self-defense and real life scenarios that test competitors' skills and abilities. Competitors must wear a concealment vest, speed loading pouch, tactical flashlight, and eye and ear protection.
Twelve realistic courses of fire included a mock wedding ceremony, boats, ambulance, African safari, and cosmic bowling alley with strobe and laser light display. Standard static IDPA targets – both moving and swingers – were set from four to 20-yards in low and no-light conditions.
Match director Lou Denys said, "While the majority of stages had moving targets, each one presented various ways they could be shot, lending uniqueness to the match so every level of shooter was technically challenged."
Founded in 1949, Hornady Manufacturing Company is a family owned business headquartered in Grand Island, Nebraska. Proudly manufacturing products that are made in the USA, Hornady Manufacturing is a world leader in bullet, ammunition, reloading tool and accessory design and manufacture.
For further information regarding Hornady products, visit the company web site at http://hornady.com. Media members interested in Hornady products for editorial review, should contact Neal Emery at nemery(at)hornady(dot)com.