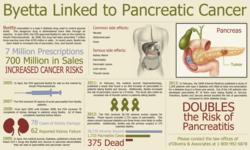 (PRWEB) March 24, 2013
Approved by the FDA in April 2005, Byetta is a type-2 diabetes drug used to control glucose levels. Adverse Events, an organization that standardizes FDA adverse event reports, has processed 38,730 adverse events concerning Byetta and 1,733 of these reports allege a link between the drug and cases of pancreatitis (i). According to the USA Today article, "Popular diabetes drugs may raise pancreatic cancer risk, study suggests," pancreatitis and cancer were two of the health concerns raised by a recent medical study (ii). The article goes on to report a study completed by the Research Center at the University of California, Los Angeles that found a six-fold increase of pancreatitis in patients taking Byetta or Januvia and it also increased the risk of pancreatic cancer by 2.9 times and thyroid cancer in patients taking the drug (ii).
Bloomberg reported the results of a Byetta medical study published in the Journal of the American Medical Association for Internal Medicine; the study followed 1,269 patients with type-2 diabetes who filled at least one prescription for a diabetes drug in a three-year period (iii). Out of the 145 patients who developed pancreatitis, 87 of them were taking Byetta or Januvia, the study suggested that Byetta and Januvia doubled the risk of pancreatitis compared to other diabetes drugs (iii). The study's author, Dr. Sonal Singh, told Bloomberg that, "we really need to know more about these drugs as pancreatitis is on the pathway to pancreatic cancer (iii)."
The Byetta infographic provides a timeline detailing major events in the development of the drug. For example, from April 2005 until October 2008, the FDA received 78 complaints of kidney damage in patients using Byetta, 62 of these complaints reported kidney failure (iv). Visit the Byetta section of d'Oliveira & Associates or view the infographic HERE.
If you or a loved one has suffered pancreatic, liver, or thyroid cancer, after taking Byetta, you may want to speak with a personal injury lawyer. A dangerous drug lawyer familiar with the diabetes injection can investigate a legal claim. d'Oliveira & Associates is working with some of the most experienced Byetta lawyers in the country, who are handling these cases. And, there is no fee until you receive a Byetta settlement or award.
Please contact the law offices of d'Oliveira & Associates at 1-800-992-6878 or fill out a contact form for a free legal consultation.
(i) http://www.adverseevents.com/drugdetail.php?AEDrugID=1260&BrandName=BYETTA
(ii) http://usatoday30.usatoday.com/news/health/medical/health/medical/story/2011-09-23/Popular-diabetes-drugs-may-raise-pancreatic-cancer-risk-study-suggests/50531776/1
(iii) http://www.bloomberg.com/news/2013-02-25/merck-bristol-diabetes-drugs-linked-to-pancreatitis-risk.html
(iv) http://www.fda.gov/safety/MedWatch/SafetyInformation/SafetyAlertsforHumanMedicalProducts/ucm188703.htm