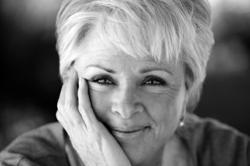 Through inquiry, we realize who we are. This is the end of fear.
Ojai, CA (PRWEB) March 20, 2013
The No-Body Intensive, Byron Katie's guided exploration of personal belief systems, lovingly questions the main aspects of identity and brings to awareness what a false identity is made of, looks at how identity is created, what it feels like to carry it, and how it can be uncreated.
Byron Katie is present at the event every day, leading every exercise, and supporting participants to find a new understanding of what lies beyond their stories of body and world. Discover what truly exists and what doesn't. Every step is a joyful falling-away of false identity and a witnessing of each person's true nature appearing.
For the second time, this event will be held at the Ojai Valley Inn & Spa, one of the world's premier resorts, nestled twelve miles from the Pacific Ocean in one of the most breathtaking coastal valleys in the country.
Register: http://www.thework.com/events.php?eid=1000029#1000029
Byron Katie has one job: to show people how to end their suffering. She has been bringing The Work to millions of people around the world for more than twenty years through her website (where everything you need in order to do The Work is free), public events, weekend workshops, the nine-day School for The Work, and her 28-day residential Turnaround House program. Byron Katie is the author of three bestselling books: Loving What Is, I Need Your Love—Is That True?, and A Thousand Names for Joy; her other books are Question Your Thinking—Change the World, Who Would You Be Without Your Story? Peace in the Present Moment (with Eckhart Tolle), and, for children, Tiger-Tiger, Is It True? For more information, visit http://www.thework.com.
Contact Info:
Byron Katie International
805.444.5799
800.985.2843
registration(at)thework(dot)com