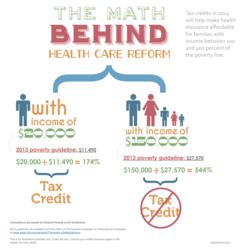 An infographic explaining the federal poverty level percentages that will helps individuals purchase health insurance can be downloaded from the healthedeals.com blog
Minneapolis, MN (PRWEB) March 21, 2013
IHC Specialty Benefits, an American Independence Corp. entity and a member of The IHC Group, recently released a federal poverty level guide on healthedeals.com to explain how individuals qualify for a tax credit on their health insurance in 2014 under the new Affordable Care Act.
The Affordable Care Act, signed in to law by President Barack Obama, has been a dominating news story in recent months as states decide whether to participate in the federal health exchange or create individual state exchanges. One of the figures commonly referred to in relation to the Affordable Care Act is the federal poverty level. Individuals that fall between 100 and 400 percent of the federal poverty level will receive a tax credit to assist in the purchase of health insurance. IHC Specialty Benefits created its federal poverty level guide and infographic to help explain how and if individuals and families will qualify for the tax credit.
To calculate the federal poverty level percentage, an individual must divide their total income by the poverty guidelines based on household size. Federal poverty level guidelines for 2013 can be found on the U.S. Department of Health and Human Services website.
The infographic explaining the math behind the percentages can be downloaded from the healthedeals.com blog.
About healthedeals.com and IHC Specialty Benefits
Healthedeals.com is a website offered by IHC Specialty Benefits, Inc., a member of The IHC Group. With $1.2 billion in assets as of January 2013, The IHC Group is comprised of insurance carriers, and marketing and administrative affiliates committed to providing excellent service and offering competitive health, life, disability, stop-loss, short-term medical, travel and dental insurance products to groups and individuals. IHC Specialty Benefits is a customer-driven company differentiating itself through knowledge, experience and integrity. We, in conjunction with our trusted insurance carriers, share a mutual desire to provide important benefits to our customers and to meet their needs in an innovative, hassle-free manner.