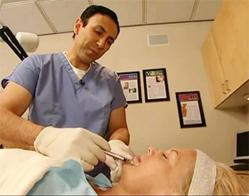 Los Angeles, California (PRWEB) March 20, 2013
According to a March 11, 2013 Guardian UK article, Botox has emerged as a potential remedy for altering mood and personal relationships. Academic studies have created useful dialogue about the link between the outward appearance resulting from Botox treatments and expression, feeling, and interpersonal interactions. (Go to: goo.gl/Ob029).
"In my experience, there is a positive correlation between receiving a Botox treatment and a patient's mood," says Dr. Simon Ourian, Medical Director of Epione Beverly Hills. "Maybe it's nothing more than feeling good for having done something nice for oneself. But it's a real benefit nonetheless."
Cosmetic treatments may improve mood and boost confidence for many people, and happiness may radiate and be returned in the form of positive feedback with each personal interaction. Frown lines and wrinkles may be misinterpreted, and a happier appearance may seem like the obstacle to having more satisfying relationships and interactions with others.
Botox can alleviate facial lines and wrinkles, and receiving these injections might be a logical option for anyone adhering to the theory that expressions control feelings. It is important to note that expression may simply indicate a mood, but oversimplifying the link between appearance and feelings may undermine the seriousness of clinical depression.
Cosmetic procedures such as Botox injections may appear to solve some of the problems related to happiness at times, but introspection about the normal physical changes that come with aging, what may cause depression, and what makes people feel happy may be a genuine way to find lasting solutions. A happy countenance may lead to more satisfying experiences, but confusing messages may still lead to being misunderstood and experiencing bouts of sadness.
"A lot has been written about this topic lately," says Dr. Ourian. "The writer of this article seems to believe that the aesthetic medicine practitioners like me have co-opted the latest research to deny the legitimacy of a woman's feelings. This is false and, frankly, insulting to any physician dedicated to helping men and women feel better about themselves."
Dr. Ourian has been a pioneer in laser technology and non-invasive aesthetic procedures including Restylane, Juvéderm, Radiesse and Sculptra. These treatments are used for the correction or reversal of a variety of conditions such as acne, acne scars, skin discoloration, wrinkles, stretch marks, varicose veins, cellulite, and others. More information about the link between Botox and happiness can be found on Epione's website.
.