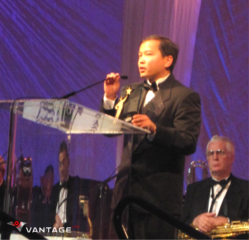 Corona, CA (PRWEB) March 21, 2013
At California State University San Bernardino, entrepreneurship isn't just a word - it is a mindset and way of life. From their comprehensive academic curriculum that leads to degrees at the undergraduate and graduate levels to their experiential activities, the environment is one of "thinking like an owner" that requires students to immerse themselves in the entrepreneurial process on a journey to learn firsthand what entrepreneurship entails.
Through the Inland Empire Center for Entrepreneurship (IECE) provides students opportunities to test their entrepreneurial potential and connect with local business leaders. This Friday, March 22nd, the students will have the chance to dine with local entrepreneur, Chris Ma, CEO and Founder of Vantage LED, Inc. He founded the company in 2003 and addressed industry specific problems through innovative R&D, local manufacturing, and outstanding customer service. When the company started, it was comprised of 3 engineers and 1 salesperson (Chris) and has since grown to over 100 employees. At the 2012 Spirit of the Entrepreneur Awards, Chris Ma was awarded the "Manufacturing" Award and, the first ever "Best of the Best" Award, a new category this year conceived by Best Best Kreiger LLP.
IECE and the minds of eager students look forward to sharing an intimate dinner with Chris Ma where they will have the opportunity to ask and receive answers from an individual with true experience. Chris is thrilled to be invited and very happy to speak about his entrepreneurial journey.