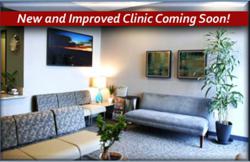 We constantly are looking for new ways to develop top-notch quality healthcare services to patients
Newport Beach, CA (PRWEB) March 19, 2013
Marque Medical is expanding their facility in Newport Beach to offer a more enhanced experience for their growing number of patients. This renovation is a reflection of Marque's continued focus to provide a first-class experience for the patients visiting their clinic. The newly renovated urgent care will feature additional state-of-the-art exam and procedure rooms plus a more spacious waiting room. The added space will provide even more comfort and efficiency to patients.
"We constantly are looking for new ways to develop top-notch quality healthcare services to patients," said Marque's CEO Pierre Bergougnan. "Our company's model combines a wide array of services with a devoted staff, in a comfortable and appealing atmosphere. By providing a pleasant and stress-free health care experience with premium medical care from our exceptional physicians, we enable our patients to get in and out and on with their life."
Marque Urgent Care stands out from other urgent care clinics by combining the top physicians and staff, sophisticated facilities, excellent practice management, and unsurpassed approach to servicing patients. With more locations coming soon featuring weekend and extended evening hours, Marque consistently delivers the high quality care patients need.