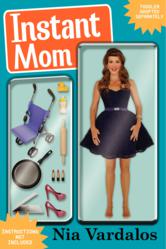 "An instant classic. Refreshingly candid for all parents—plus anyone considering adoption....We know Nia is many things: writer, actress, director.... Here, though, you learn she is a mom first. Pure, beautiful honesty." -Kristen Chenowith
San Francisco, CA (PRWEB) March 28, 2013
Writer and star of My Big Fat Greek Wedding, Nia Vardalos firmly believed she was supposed to be a mom, but Mother Nature and modern medicine had put her in a headlock. So she made a choice that shocked friends, family, and even herself: with only fourteen hours' notice, she adopted a preschooler.
Instant Mom is Vardalos's hilarious and poignant true chronicle of trying to become a mother while fielding nosy "frenemies" and Hollywood reporters asking, "Any baby news?" With her signature wit and candor, she describes her and husband Ian Gomez's bumpy road to parenting, how they found their daughter, and what happened next. Vardalos includes a comprehensive how-to-adopt section and explores innovative ways to conquer the challenges all new moms face, from sleep to personal grooming. She learns that whether via biology, relationship, or adoption—motherhood comes in many forms.
In Instant Mom, Vardalos shares the terrifying joys of parenthood and for the first time reveals her stubborn optimism and perseverance on her trek to finally becoming a mom, instantly. The book, while relatable to all parents, also includes a resourceful "How to Adopt Appendix," with information such as:

Overviews of domestic, fos-adopt and international adoption processes, with typical timelines for each option.
Criteria for prospective adoptive parents, including age and health requirements as well as background checks, with state-specific requirements.
Adoption requirements and costs for specific countries, including Canada, China, Ethiopia, Greece, India, Mexico, and the UK.
Resources to aid adoptive parents, including an organization that awards grants of up to $15,000 to help with adoption costs.
Nia Vardalos is the Academy Award and Golden Globe nominated actress and writer of My Big Fat Greek Wedding. An alumnus of The Second City comedy theater, she also starred in and wrote Connie and Carla and I Hate Valentine's Day, starred in My Life In Ruins, and co-wrote Larry Crowne with Tom Hanks. Born and raised in Canada, Vardalos now resides in Los Angeles with her husband, their daughter, and many pets and is currently working on balancing her acting and writing career with motherhood and adoption advocacy.