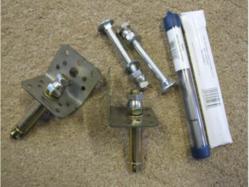 Once the kit is installed a teak bench is securely affixed to the ground making it almost impossible to move or steal
Basingstoke, Hampshire (PRWEB UK) 21 March 2013
Chic Teak a leading supplier of outdoor garden furniture, has recently introduced a new range of easy to fix security devices for use with their teak garden benches.
Securing a teak bench to the ground easily and neatly has up until recently been a formidable challenge. Some set the legs of the bench in concrete or chain them to another object but in the past neither method has been very secure or sightly.
The new range of Chic Teak security kits have been specially designed for their range of commemorative benches and puts a stop to these prized benches being moved and stolen. Two kits are available, the Earth security fixing kit and the Concrete security fixing kit and are deployed dependant on the ground surface to which they are intended to rest. Both kits contain a security bracket that affixes to two opposing legs of the bench via a self shearing bolt. The security brackets are then attached to a 12" long iron screw that is driven into the ground for grass or soil installations. Or in the case of benches that are to rest on hard concrete the security bracket is attached to a special bolt that is screwed into the concrete.
Once installed correctly the only way the bench can then be moved is by cutting through the bolts with a hacksaw. This means the benches are safe and secure from misuse or being stolen from even the most determined thief.
It is a shame that such security measures are necessary but after investing in a quality bench and going to the trouble of having it personalised with a plaque or a carved inscription it is sound sense to protect it from damage or theft especially when the benches themselves can last up to 25 years.
Both kits contain everything that is required for quick and easy installation. including brackets, bolts, screws and a drill bit. All that is required are the tools for fixing which are a spanner and an electric drill.
Commemorative and memorial benches are those in most need as they are often installed in public places such as church ground, schools, golf clubs and in areas of natural beauty. The robust Raffles bench and Riverbank bench are very popular benches for use by the general public but can lead to considerable distress to the buyer if damaged or stolen.
Chic Teak Managing Partner, Robert Bowden, commented: "In an ideal world it would not be necessary to deploy such security measures but for the sake of a few pounds these bench security kits not only safeguard any investment but also avoid any emotional upset if a teak bench that is dedicated to a loved one is damaged or stolen."
For more information on Chic Teak and their bespoke tree benches, visit their website at http://www.chic-teak.co.uk/ or telephone 0845 390 5000.