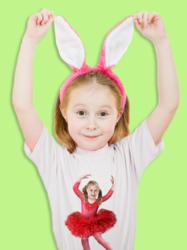 At flattenme, we believe it is important to provide magical gifts for children that don't have a thing to do with consumption of sugar. - Margo Redfern, CEO, flattenme.com
(PRWEB) March 20, 2013
Life doesn't have to just be a box of chocolates. Make it a special Easter this year with gifts that are readable, wearable and personalized for kids from flattenme.com. Each captivating custom book weaves the child's name and face into a personalized story created with enchanting words and captivating illustrations. The child has the starring role in each magical custom book, with her name and face featured on nearly every page.
Spice up that Easter basket by including flattenme personalized shirts with the child's face realistically superimposed atop their favorite character. Any little girl can dance her way across the stage as a graceful ballerina in a fanciful tutu or embark on a "swimmingly" spectacular ocean journey as a mermaid.
Proud parents and grandparents will love to dress their child in a quality custom shirt from flattenme decorated with her own sweet face or his mischievous grin. Of all the surprises in the Easter basket, these personalized shirts are the hardest for a child to part with (even long enough to put them through the wash).
After their splendorous personalized storybook has been shared each night for years and their custom shirt has been outgrown, both are custom gifts which will be kept always as treasured keepsakes, preserving wonderful memories of those special times shared with a child. All accomplished without the Easter sugar overload!
##################
Flattenme.com has been creating magical personalized gifts that charm children across the world for the past 6 years. Flattenme has been highlighted as the hot gift to give by Oprah, Today Show and The View and ships from Utah, Atlanta, and Australia.