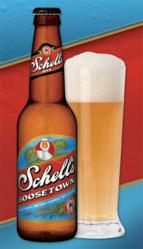 New Ulm, MN (PRWEB) March 19, 2013
The August Schell Brewing Co., the second-oldest family-owned brewery in the country, brewer of Schell's and Grain Belt, is set to release its latest beer, Schell's Goosetown on April 1st.
The beer is a traditional, German-style Gose (pronounced "Gose-uh"), using over 20 pounds of coriander spice in each brew. It has a bright lemon zest, coriander aroma and a slight saltiness that rounds out this new summer brew. The beer pours clear, golden orange in color, with a thick white foam head. A refreshingly light and citrusy tartness greets your palate, backed by a bready, wheat malt character. The beer is available in 6-packs, 12-packs and draft from early April until October.
Schell's Goosetown is named after a neighborhood located across the tracks and down by the Minnesota River in New Ulm, settled by mostly Catholic German-Bohemian immigrants in the late 1800's. These immigrants raised gaggles of geese, which wandered freely throughout the neighborhood and fed along the banks of the river.
A media release party will be held at Schell's Brewery for the official launch of Goosetown on Thursday, April 4th. Schell's brewmasters will be on hand to answer questions and chef Topher Jacobson from Artisan's at the Grand in New Ulm, MN will prepare food pairings. For media invitation requests or other inquiries contact tholm(at)schellsbrewery(dot)com.
About August Schell Brewing Company:
August Schell Brewing Company, located in New Ulm, MN, sits atop the same site it was built on in 1860. With its sprawling grounds, beautiful gardens, Schell Mansion, and deer park, the brewery is a tourist destination for any beer lover. Schell's boasts a proud heritage of 153 years of continuous family ownership and specializes in craft beers. In addition to the line of specialty beers, Schell's also produces Grain Belt Premium, Grain Belt Premium Light and Grain Belt Nordeast. For more information on Schell's Brewery, tour schedules or any of their 17 quality beers, go to http://www.schellsbrewery.com.