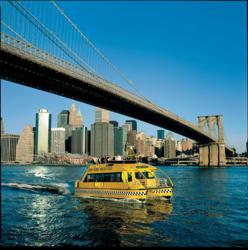 New York, NY (PRWEB) March 22, 2013
"Sights, Celebration, Remembrance and History" will bring the whole family together this Passover, during the Harbor Tours of Jewish New York. This one hour tour begins at the Historic South Street Seaport and travels up the Hudson River, visiting many sites along the way including the first Jewish settlement in North America, Liberation Monument, and the Museum of Jewish Heritage. Led by Internationally recognized architect and writer Oscar Israelowitz, author of "Guide to Jewish New York City", New York Water Taxi's harbor tours of Jewish New York City are entertaining and informative for young and old alike.
"This is a beautiful trip for all ages. Most New Yorkers take the subway or walk around the city and this gives them a different perspective. They will get to see things they have never seen before," said Oscar. "People are able to relax, enjoy the view and listen to 350 years of history."
This tour will also be a celebration of family, explains Rachelle Friedman - President & Co-CEO of J&R "Two New York Icons join hands once again to offer the kids of New York City a most unforgettable treat - a Jewish Heritage Tour of New York Harbor" J&R will be providing goody bags to the first 40 families in attendance to each of the five tours.
This tour is only operating for two days, March 28th and 29th, with seating on a first come, first serve basis. Arriving early and making reservations are strongly recommended. This tour is a fully guided, 60 minute tour, departing from Pier 17 at South Street Seaport. For more information please visit New York Water Taxi.
About New York Water Taxi:
New York Water Taxi (NYWT), an affiliate company of The Durst Organization, Inc, has been New York fixture since 2002. Beginning with a spunky fleet of five distinctive black and yellow-checkered vessels, today, the iconic 12-vessel fleet also includes the vessels of NYWT's sister organization Circle Line Downtown.
NYWT's mission is to provide entertaining, stimulating, and enlightening ways to see New York City's dazzling skyline, celebrated bridges, lush waterfront parks and enjoy the City, while maintaining a community-conscious fleet that honors our cherished waterways. For more information, please visit http://www.nywatertaxi.com. Enjoy the ride TM!