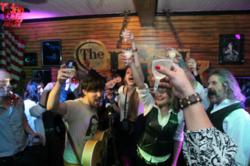 "The Birk On The 202--It's Not That Far"
Birkenfeld, Oregon (PRWEB) March 21, 2013
The April live music schedule at The Birk starts off with the swamp rock blues based soul of The Ben Rice Band Saturday night April 6th followed by an afternoon show staring at 1pm on Sunday when The Birk's specials are Bloody Mary's free popcorn and some outstanding music to ease into your work week.
The next weekend, April 13th at 7pm David Jacobs-Strain strolls into town with his indie outlaw "gangstagrass" country blues songs that he tours with nationally. Sunday afternoon April 14th at 1pm Trask River Redemption makes their debut. Trask has a truly original sound with songs the write themselves. Ty Curtis returns to The Birk for a guaranteed full house for shows both on Saturday night and Sunday afternoon where Ty is unplugged. This talented young man just got back from South by Southwest in Austin Texas.
Another debut for The Birk is The Roseland Hunters with their "Big Bad New Orleans inspired funk" scheduled Saturday April 27th at 7pm and to finish off the month on April 28th at 1pm 15 year old young gun Nolan Garrett will also be making a first appearance. Nolan has been heading to L.A. quarterly working with Jeff Kossack ( of San Fernando Valley's Other Hand Recording) on songs for his forthcoming debut album. So take that drive on the country road that leads to The Birk in Birkenfeld, Oregon--It's not that far!!!