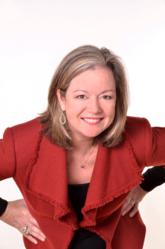 It is almost impossible to miss Kelley's strong voice in this industry... Kelley is a true pioneer on the topic of marketing health & wellness to women.
Chicago, IL (PRWEB) March 20, 2013
Kelley Connors, MPH, Founder & President of KC Healthcare Communications will serve as Guest Emcee at the 4th M2W®-HW™ – The Marketing Health & Wellness to Women Conference, April 18, 2013, Hard Rock Hotel, Chicago. According to Nan McCann, M2W®-HW™ producer, "It is almost impossible to miss Kelley's strong voice in this industry. Online, on the radio, in print, and in person as a frequent speaker, Kelley is a true pioneer on the topic of marketing health & wellness to women. We welcome Kelley's perspective, her expertise and her boundless enthusiasm to the 2013 stage as this year's Guest Emcee."
"Kelley is the brand engagement champion for health and wellness," McCann said. "She helps marketers increase their market share, influence and sales with administrators, healthcare professionals, patients, and consumers – with a special focus on midlife women's health. Her healthcare clients have included small, mid-sized and multi-national medical device and pharmaceutical companies, NYC-based healthcare advertising and PR agencies, national non-profit health care organizations, women's health advocacy organizations, and world renowned medical centers."
"One of Kelley's most significant accomplishments is the development of the first ever women's health on-line radio talk-show, "Real Women on Health," and The Women's Health Conversation Network. The platform now has over 60,000 downloads of highly sharable women's health content achieved with relationships with superior coaches, thought leaders, and advocacy organizations," McCann added. "Her mission is to connect and engage brands and their organizations with e-patients, consumers, caregivers and women as agents of change for better health and wellbeing.
About M2W®-HW™
Part of Women Mean Business!™ Week, M2W®-HW™ is the world's premier conference on marketing health and wellness to women. Since its founding in 2009, the event has been attended by hundreds of senior-level brand managers and marketing executives from Fortune 500 companies representing major consumer product and service categories in the health, wellness and pharmaceutical industries.
The M2W®-HW™ program features keynotes, general sessions, workshops, receptions and special events. Highlights include case studies and how-to sessions on topics such as media, creative, research, packaging, purchasing habits and point-of-sale interaction. Sponsors for the 2013 conference include Associate Sponsors: United Healthcare, WebMD, Society for Women's Health Research, Express Scripts, Iron Girl, Spirit of Women and Mayo Clinic Center for Social Media; Affiliate Sponsors: WomenHeart, Bcureful, Healthy Initiatives Foundation, and American Association of Caregiving Youth; and Showcase Sponsors: Lifescript, Women's Health Foundation, KC Health Communications, Pluggz, Snippies, Paramount Market Publishing and Carolina Pad. M2W®-HW™ is wholly owned, managed and produced by PME® Enterprises, LLC. 912 Silas Deane Highway, Suite 101, Wethersfield, CT 06109.