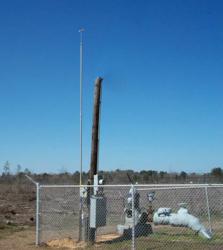 Installation was simple, not time consuming, not labor intensive, and most of all, not expensive
Greenville, NC (PRWEB) March 20, 2013
The Crossett Water Commission in Crossett, Arkansas was faced with an expensive lightning problem. Crossett knew their water plant needed a serious solution after several lightning hits over a period of time cost them more than $40,000 in damage.
"We knew we had to put this horse out to pasture," said Buddy Kinney with Crossett.
After searching intensely for the right solution for the water plant, Kinney contacted Javier Castillo at LBA Technology, Inc., a division of LBA Group, Inc. "In researching LBA, I found some products I thought would fit our needs. Javier helped me understand what products we needed." The Crossett Water Commission now protects their facility, which includes a $6.6 million renovation, with specialized LBA lightning masts. They installed the lightning protection on a series of wells and a tall lime silo.
"I am convinced the LBA lightning masts have already paid for themselves, keeping us safe through several thunderstorms we have had since installation," added Kinney. "A very comfortable investment considering one lightning bolt can cause anywhere from $1,200.00 to $2,000.00 damage."
Specialized lightning protection masts from LBA offer unique benefits:

The PLP series of lightning masts provide a cone of protection within which lightning charges are diverted to the mast and grounded instead of being sent through the protected object.
Convenient, fast deployment with minimum resources.
Rated to sustain hurricane strength winds.
Light weight, economical and UPS shippable.
The cone of protection offered by the PLP lightning mast is critical. This approach avoids making expensive and sensitive equipment a conduit for lightning.
Even in Crossett's case, the large industrial motors running their series of wells are controlled by electronics. Often modern electronics do not have to sustain a massive static charge to suffer damage.
Crossett found the installation of the LBA's specialized system straightforward and cost effective. "Installation was simple, not time consuming, not labor intensive, and most of all, not expensive," said Kinney.
LBA Technology offers the PLP-14, PLP-22, PLP-30 and the PLP-38 mast systems. These fixed and portable lightning protection masts and kits are manufactured from high grade lightweight aluminum. The masts, which range in height from 14 feet to 38 feet, are rugged and are available with various mounting styles and grounding systems. Coupled with LBA's available static discharge dissipater air terminals, these specialized systems offer a lightning defense that is unmatched.
For more information on the wide variety of lightning mast and charge dissipation protection solutions offered by LBA, visit http://www.lbagroup.com/products/lightning-protection-systems-for-towers-antennas-and-structures, or contact Byron Johnson, at Byron.johnson(at)lbagroup(dot)com, 252-757-0279.
Keep up with new products and technologies at LBA Group, Inc. and LBA Technology, Inc. by following its blogs at http://www.lbagroup.com/blog and on Facebook at http://www.facebook.com/LBAGroup.
About LBA Group Inc.
LBA Group, Inc. has 50 years of experience in providing electromagnetic protection for industrial and telecommunications infrastructure assets. It is comprised of LBA Technology, Inc., a leading manufacturer and integrator of radio frequency systems, lightning protection, and EMC equipment for broadcast, industrial, and government users worldwide; the professional engineering consultancy Lawrence Behr Associates, Inc.; and LBA University, Inc. providing on-site and online professional training. The companies are based in Greenville, N.C., USA.