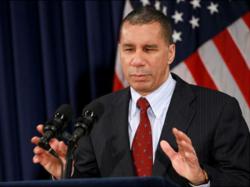 I am looking forward to this new chapter in my life and my career.
Parsippany, NJ (PRWEB) March 21, 2013
Residential Home Funding Corp., a New Jersey-New York and Pennsylvania based mortgage lender announced today that the Honorable David Paterson, the 55th Governor of the State of New York, has joined the company in its White Plains, NY office. Governor Paterson will be Vice President of the Mortgages for Champions Division, a mortgage lending unit focused on providing affordable mortgage loans for uniformed personnel, teachers and members of the US military. Previous to joining RHF, Governor Paterson, who left office in 2010, was a popular radio talk show host on station WOR in New York City. He is also the principal in DAP Strategies LLC, a consulting firm located in Harlem, NYC and serves on the Board of the Metropolitan Transportation Authority in NY.
As the management executive in charge of the Mortgages for Champions Division, Governor Paterson will play an integral role in developing strategies to build upon the prior success of the program through advocacy, education and marketing throughout New York State.
Referring to the announcement, Residential Home Funding President Tom Marinaro stated, "We are justifiably proud and honored to have such a distinguished and experienced executive join our team. Governor Paterson's tremendous success throughout his career in forging partnerships and collaborative efforts to advance important business and social issues will be an incredible asset to our company. In addition leadership of the Mortgage for Champions division provides the Governor with the opportunity to interact with key constituencies he knows well and whose members will derive significant personal benefits for them and for their families from this program."
Governor Paterson remarked, "I am pleased to join Tom and the incredible team at Residential Home Funding in this endeavor. I had the opportunity to speak at their annual corporate meeting last year and was overwhelmed by the professionalism of their owners and management, the enthusiastic support of their employees and the commitment they have made, for many years now, to provide the highest level of service and value to the people they serve throughout the metropolitan New York area and everywhere they do business. I am looking forward to this new chapter in my life."
Residential Home Funding Corp. is a full service mortgage banker licensed in CT, DC, DE, FL, GA, MD, NC, NJ, NY, PA, SC and VA. RHF offers a wide array of mortgage products, competitive rates and employs some of the most talented and dedicated employees in the industry. Residential Home Funding Corp. is a FNMA approved seller/servicer and also originates FHA and VA loans. For more information about RHFC please visit http://www.rhfunding.com.