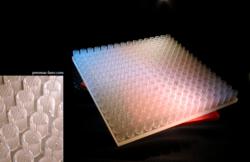 This work demonstrated another novel way that 3D printing and advanced micromanufacturing technologies are spearheading the development of innovative new applications and products.
Lanham, MD (PRWEB) March 20, 2013
Digital manufacturing leader Potomac Photonics is pleased to announce that it recently completed rapid prototyping of precision 3D printed parts for Boston University to support their research in stem cells.
Stem cells have enormous potential in medical research. Their ability to differentiate into specialized cells types, may one day provide a renewable source of replacement cells for people that require organ transplants or are suffering from ailments such as Parkinson's disease, Type I diabetes, and Cardiovascular disease.
According to Boston University Investigators, understanding and controlling stem cell differentiation in vitro is proving to be a major challenge because cells can interact with each other either through direct contact or by cell-secreted factors. A more controlled cell micro-environment is needed to systematically elucidate the important factors that influence cell behavior.
Utilizing a high-resolution 3D printer, Potomac Photonics fabricated precision stencils to pattern seeded stem cells such that cells are grown in a defined arrangement relative to each other. By preparing various stencils, the BU researchers hope to determine how the relative position of stem cells affect their differentiation efficiency and differentiated progeny.
This work, which was performed within Potomac Photonics' Educational Manufacturing Initiative, demonstrated another novel way that 3D printing and advanced micromanufacturing technologies are spearheading the development of innovative new applications and products. According to Vice President of Operations Mike Davis, "It fills us with great pride that our advanced manufacturing technologies such as lasers, micro-CNC and 3D printers are being used to promote research and development of new devices that will help improve our quality of life."
About Potomac Photonics
For over 30 years, Potomac Photonics has been a leader in microfabrication and small hole drilling. Potomac's contract services span prototyping to production, helping clients develop miniature products and bring them to market. Using cutting-edge manufacturing technology, Potomac has been recognized by both commercial and government agencies for innovation in areas such as medical devices, electronics, aerospace, and automotive manufacturing. Potomac's high-tech facility, located in Lanham, MD, is ISO 9001:2008 and ISO 13485:2003 certified. Visit the website at http://www.potomac-laser.com