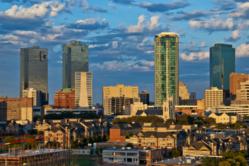 North Texas home owners are curious about the effects on the local real estate market since the sequestration was announced by President Obama.
Dallas, TX (PRWEB) March 21, 2013
Those who own North Texas real estate are curious about the effects on the local real estate market since the sequestration was announced by President Obama. Experts say there may only be a small impact from the federal spending cuts, but there are still question marks concerning one of the biggest spending halts in history including $85 billion in automatic spending cuts across the board.
Two massive real estate projects in the area, including the new Federal Aviation Administration (FAA) regional office that will be built in Fort Worth and the U.S. Patent Office in downtown Dallas that opened recently, are the biggest causes for concern. But real estate officials in North Texas say that the DFW Metroplex isn't heavily reliant on the U.S. government when it comes to office space, so there likely isn't much to worry about.
When it comes to the North Texas real estate market, it will be those home owners who are reliant on the Department of Housing and Urban Development who could see the biggest impact.
Adds DD Flynn, VP Marketing with Prudential Texas Properties , "Because of the pullback on spending, there will ultimately be an effect on federal housing programs, including those that HUD manages. These include issues with mandatory furlough days that HUD employees are forced to take, impacting endorsement and claim timeframes for FHA loans. "
While the entire scope of the federal sequestration is still unclear, officials say that it could result in approximately 75,000 fewer households receiving foreclosure prevention assistance, which includes counseling services. HUD said their department would soon be able to shed more light on how this part of the residential real estate market will be impacted.
Flynn notes, "While we don't anticipate that the North Texas real estate market will see much of an effect, if any, from the sequestration, it's still good to remain apprised of the what-if's. For buyers who are interested in purchasing a North Texas home, there has never been a better time to sit down with an expert real estate agent who can speak to the overall health of the local market and address any concerns you might have about sequestration."
With more interested buyers than there are homes to go around, inventory issues continue to be a challenge around the Dallas-Fort Worth Metroplex. For the 14th month in a row, North Texas real estate saw double-digit year-over-year gains in February with a 14% gain in pre-owned home sales. The good news is that median home prices were up 8% from the year before, which could prompt more area home owners to put their homes on the market.