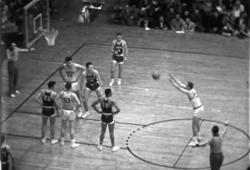 Gopher Athletics is so thankful for the gift of this irreplaceable 1950's Gopher Basketball Footage
Minneapolis, MN (PRWEB) March 20, 2013
As the annual NCAA March Madness men's basketball tournament approaches, there is plenty of buzz in Minnesota about the prospects for the Men's Golden Gophers, currently seeded #11 in the South bracket. As a tribute and thank you to the successes of this year's University of Minnesota Golden Gophers Men's basketball team, a leading media restoration and conversion company based in Minnesota, Saving Tape (http://www.savingtape.com), has gifted historic University of Minnesota Men's basketball footage which Saving Tape converted to HD format from restored original 1950's 16mm film reels. Eight games in all were transferred and converted and reach back 60 years in sports history to highlight Golden Gopher men's basketball games against longtime Big Ten rivals such as Wisconsin, Michigan and Illinois. Thor Anderson, president and owner of Saving Tape and an alumnus of the University of Minnesota graduate school, had these historic tapes transferred and converted into High Definition (HD) format so that they would suitable for viewing on any HDTV. Saving Tape is one of only a few companies in the country offering high definition film transfer.
In response to the gift, the University of Minnesota Athletic Department's (http://www.gophersports.com) new Men's Media Manager, Ryan Maus, expressed his gratitude, "Gopher Athletics is so thankful for the gift of this irreplaceable 1950's Gopher Basketball Footage. The U of M has a rich basketball tradition and to have high–quality digitized footage from this era will be invaluable to our department both now and in the future."
Saving Tape first viewed the original film reels several years ago, when U of M Men's Gopher Basketball coach, Tubby Smith, discovered the films and asked Saving Tape to convert the films to video DVDs. Recent technological advances and equipment upgrades have allowed Saving Tape to now begin offering 16mm film transfer to HD compatible format. Saving Tape dug out the old reels to have re-transferred after their recent upgrade to the new state-of-the-art High Definition film scanning technology was complete. Saving Tape owner, Thor Anderson, felt that the University of Minnesota should have the best possible quality files of the historic footage and added, "we felt these old films were a perfect media for us to highlight our new technology upgrades and demonstrate the value that this new technology could provide." The University of Minnesota Athletic Department will now have the files to add to their historic archive and use in future multimedia projects and documentaries.
Saving Tape has released a short tribute video on their YouTube channel (http://www.youtube.com/watch?v=neKo3mWWnBU) which features footage from a 1954 game against league rival, Michigan Wolverines. Several noticeable differences in how college basketball was played in the 1950's are evident by watching the tribute film. There was no three-point line, nor was there a shot clock, the basketball shorts worn by the players were appropriately named, and most entertaining to watch were the "Granny - Style" free throws that were still popular at that time.
Thor Anderson added, "Besides some of the significant changes in how the game is played now in the 21st century, one of the joys of watching the full HD (1920 x 1080) digital movies is that the complete film frame can be viewed without the cropping effect of a frame gate. Therefore, these sixty-year-old games can now be viewed in 'wide-screen' that was never before possible."
About Saving Tape Media Conversion:
Saving Tape, located in Minneapolis, MN, has quickly become a leading provider of media conversion services in the Upper Midwest. Saving Tape has extensive technological know-how to restore and digitize home movies, VHS tapes, audio tapes, reel-to reels, and film slides. Saving Tape is one of only a few companies in the nation that have invested in High Definition film transfer technologies. These newly formatted and digitized family memories can then be shared as DVDs edited on your computer or even shared on the internet. For more information please log onto http://www.savingtape.com to see just how competitively priced their services are relative to other companies using lower quality technology.
Contact:
Thor Anderson
Saving Tape Media Conversion
Tel: 1-800-860-7021
Web: http://www.savingtape.com