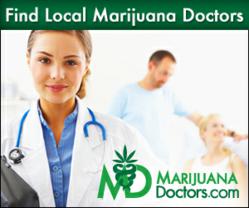 "MarijuanaDoctors has no intention of slowing down its efforts to add the most reputable doctors to our system. We are founded upon the highest standards, a foundation we expect our clients to maintain." - John Nicolazzo, C.O.O. of MarijuanaDoctors
(PRWEB) March 26, 2013
The nation's most knowledgeable and first-of-its-kind medical marijuana doctor search and booking platform, MarijuanaDoctors.com, has announced recent additions to a sufficiently bolstered roster of canna-businesses. While MarijuanaDoctors clientele roster is already becoming an increasingly unbounded powerhouse, they never relent in their dedication to supplying the country's millions of medical marijuana users with medical services of the utmost highest standard. This company is responsible for taking the troubles out of finding the right physician who can provide patients with a compassionate pain management plan. Bettering a patient's well being is essential to maintaining overall health, and if it wasn't for the team at MarijuanaDoctors, nearly 150,000 patients a year would be having a difficulties and personal struggles finding a physician who best suits their specific condition. As usual, MarijuanaDoctors shows no symptoms of slowing down their skyrocket move to the top of the industry.
Recent additions to MarijuanaDoctor's solidified roster of medical marijuana doctors include Greenfield AME, Green Cross Evaluations, Mobile Med Docs and Elite Medical. These canna-businesses are both legally permitted and board-certified, and feature some of the finest staffs in the country. Patients who are looking to inquire about the potential benefits of medical cannabis as an alternative treatment option are happy to know that all businesses within the MarijuanaDoctors roster are only comprised of the utmost highest regards and have had no past history of malpractice or any legal action suits filed against them. The company has conducted many checks in order to ensure that all businesses are conducting duties in a discreet, professional and confidential manner.
Greenfield AME, commonly known as Greenfield Alternative Medical Evaluations, is a medical marijuana location in the Riverside, California region. California medical board-certified and officially licensed to recommend cannabis as an alternative treatment option, Greenfield AME is a main provider of the most professional medical marijuana evaluations, medical marijuana recommendations and medical marijuana certifications. Patients within the surrounding areas of Pachappa, Magnolia Avenue, Casa Blanca, Rubidoux and Arlington are eligible to see one of Greenfield AME's licensed physicians and experience the wonderful services they have to offer. The staff at this exceptional medical health clinic will also help patients within the processes of obtaining a California medical marijuana card.
Green Cross Evaluations is a board-certified physician's health office that is located in Santee, California and provides patients of California's medical marijuana program with some of the most advanced philosophies and services in regards to medical marijuana evaluations, medical marijuana recommendations and medical marijuana certifications. The staffs at Green Cross Evaluations is some of the finest and they even help assist all approved patients with all of the processes involved in attempting to obtain a California medical marijuana card. For patients inquiring in surrounding cities such as Bostonia, El Cajon, Lakeside, Cajon Heights, Riverview and Carlton Hills, Green Cross Evaluations welcomes patient's with opens arms and encourages them to come to their office and experience the professional services they provide.
Mobile Med Docs is a state-approved and medically-certified medical health office that provides exceptional services with two locations, one in Anaheim and another in Huntington Beach, California. This facility is always conducting its business within the highest of standards, and maintains the most compassionate approach to alternative medicine. This location specializes in the issuing of the most legitimate, discreet and confidential medical marijuana evaluations, medical marijuana certifications and medical marijuana recommendations. Boasting a team of extremely knowledgeable team members and one of the most experienced physicians in the state, Mobile Med Docs truly sets themselves aside from the rest. By featuring two locations, this medical marijuana location extends its services to the surrounding towns and cities around Anaheim and Huntington Beach.
Elite Medical is a reputable medical marijuana location that takes great pride in providing the most secure, discreet and professional access to safe medicine for California medical marijuana patients. Always in compliance with state and federal regulations and zoning codes, this facility truly attempts to defy the stigma related to medical marijuana. Elite Medical provides the utmost serviceability to patients within the state of California who are suffering from a variety of chronic and debilitating conditions and are looking to receive medical cannabis as an alternative treatment option. Elite Medical is located in Huntingon Beach, California and extends its comprehensive medical consultation program to the surrounding towns and cities of La Bolsa, Liberty Park, Talbert, Ocean View Estates, Wintersburg and Ocean View.
With the announcing of these well-known, entirely professional and extremely legitimate medical marijuana doctors to the MarijuanaDoctors family, the company is only further solidifying its status as a true leader of the medical marijuana industry. Clientele roster updates will be released each day and will feature some of the most respected canna-businesses in the industry, all of which are always compliant with state regulatory medical marijuana bylaws. Without the professionalism of a bona fide business relationship, and without the compassionate approach of alternative medicine, MarijuanaDoctors would not be creating such a strong extended family.