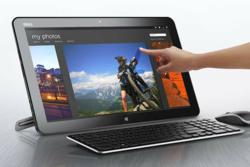 "The lightest 10-inch tablet on Earth, the thinnest tablet in the world, immersible in up to three feet of water...."
Austin, TX (PRWEB) March 20, 2013
Two recent world records are highlighted as Parts-People.com publishes two technology news articles.
Focusing on significant and noteworthy attributes, Paul B. Wordman wonders if Sony has in some ways "out-appled Apple" with the Xperia Z tablet which is: "the lightest 10-inch tablet on Earth, the thinnest tablet in the world, immersible in up to three feet of water, the 1st tablet to run on Qualcomm's Snapdragon S4 Pro; and has WUXGA 1,920 x 1,200 resolution with the "widest spectrum of color on any tablet" and more than 20% greater color reproduction than Apple's iPad; while providing Near Field Communication (NFC), 10 to 12 hours of battery life, and working as a universal infrared (IR) remote."
An article on the World's Thinnest & Lightest All-in-One PC provides readers with enough information on the Dell XPS 18 to reach viable conclusions. That technology article points out that: "With the XPS 18′s substantial 18.4-inch capacitive, full-HD 1,920 x 1,080, 10-point touch display in a form-factor 0.69-inches thick and starting at less than 5-pounds, with a claimed battery life of up to five hours, there really is not currently anything else with as large a display that can meet those criteria."
Recent Tablet PC Articles by Paul B. Wordman
•World's Highest Resolution Tablet: Google Nexus 10 Beats Apple iPad Retina Display
•Microsoft Surface Tablet is Not a Shot Across the Bow: It's a Real Torpedo – Opinion
•$60 Matrix One Android ICS 7-Inch Tablet – Make 'em cheap & stack 'em deep
•Datawind $35 Aakash 2 & UbiSlate Tablets – A Cautionary Tale
•Dell XPS Duo 12 Laptop-Tablet & XPS 10 Tablet-Laptop: Faces of Convergence
•Samsung's P10 Tablet with Exynos 5 Dual May Kick Apple's Core
•Driving Convertibles & Merging Laptops + Tablets = Hybrids
About Parts-People
Parts-People.com continues to increase parts inventory of wholesale Dell laptop parts in Austin's growing technology hub, and now provides one of the largest selections of Dell replacement parts in the world. Parts-People stocks more than a quarter of a million notebook replacement parts physically in-house, on-site, and ready to ship the same business day.
Refurbished laptops are available at the Parts-People.com online store for buyers who prefer a familiar operating system (OS) on hardware with a trust-worthy package of drivers.
The Parts-People website serves a large number of school districts, government agencies, businesses, non-profits, and individual consumers that will not, or cannot make eBay purchases for various reasons. The technical staff is composed of experts trained specifically to work exclusively on Dell products; a significant reason that individuals and organizations order replacement parts or ship their laptops to Parts-People, from all over the world, for service or repair.
The Parts-People.com web-site delivers Technology News & Information services as part of its online comprehensive knowledge-base resource center, including news sections covering tablets and laptop trends. Some of those technology news articles have the goal of making geek fun, with things that make people say wow.
Parts-People's Director of Social Media, Roscoe Dyer, develops online tutorial, do-it-yourself, how-to-repair laptop videos, and Dell laptop service manuals which are continually updated.
Established in 2002 as a start-up, entrepreneurial, family-owned business, the company's rapid growth in 2003 became the catalyst for consolidating operations in 14,000 square-feet of mixed warehouse, retail, and office space.
Parts-People.com operates an online store which provides one of the largest selections of Dell replacement parts on the internet, and now stocks more than 250,000 Dell laptop parts.
The growth of Parts-People.com is enhanced by its location in Austin, which is known world-wide as a technology hub. The area is also home to offices of companies such as: AMD, Apple, Cirrus Logic, Dell, Evernote, Facebook, Freescale, Google, HP, IBM, Microsoft, National Instruments, Nvidia, PayPal, Silicon Labs, and 3M. Often called Silicon Hills, Austin is also known to art, music, and SXSW (South-by-Southwest) aficionados as simply, "the ATX".
Contact Information
Parts-People.com can be reached toll-free at 866-816-5254. The main phone number is 512-339-1990. Fax: 512-339-1996. Technology Journalist: paul.b.wordman(at)gmail(dot)com, paul.bottoms.wordman(at)turbo12(dot)com. Company E-mail: info(at)parts-people(dot)com.