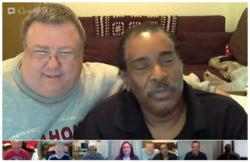 These monitors are a real game changer.
Oklahoma City, OK (PRWEB) March 20, 2013
This March five blind Oklahoma Veterans began training as relay operators on a Google+ platform to make phone calls for deaf veterans. Funding from the Department of Veterans Affairs, Vocational Rehabilitation and Employment Program (VR&E) of Oklahoma City and the State of Oklahoma, Department of Rehabilitation Services has allowed these veterans to embark on a training mission that has literally changed their lives.
Veterans Workshop Class A-225 began as a group of strangers but quickly evolved into a band of brothers. Whether it was showing a classmate where to click on a screen or finding someone to take them to a house to adjust a setting they never hesitate to help each other in need. The group of veterans quickly established a strong sense of camaraderie helping each other day or night.
One of the veterans in training, Chuck Smith says "When you lose your vision you can't get around without asking someone for help and that's frustrating. I can't even begin to tell you how this training class has changed my life. I am now able to ask one of my classmates to come pick me up and together we can go anywhere we want. We are part of a team that has opened up a whole new world of opportunities. I am excited to push forward and I knew with the right equipment we could make it happen. I feel honored to be a part of this group".
Early on it became apparent that monitor quality and screen size created obstacles for some of the veterans. Being a close knit group they rallied together to help each other in every way possible. A veteran connected to one of the students got wind of this hurdle and immediately stepped up to the plate. Within 24 hours new monitors were purchased and installed at the homes of the veteran students that needed them most. One of the recipients Martin Brown says, "My new monitor is a 99.5% improvement. I was praying in my garage yesterday and next thing I know the fellas came with a 40" monitor. I have served as a deacon in my church for the last 15 years helping others and this training is opening doors to continue helping others in need."
For David Fox the new monitor is described as "clear, bright, easy to get to, a split second to get to one end of the screen to another and fabulous". The classroom has opened David to other vision disabled veterans in ways he never would have imagined and has provided for "real moments of brotherhood."
As student George Lamb puts into perspective, "When people are visually impaired people think they develop super powers like hearing and that's just not true. They have to struggle with tasks that other people take for granted and it takes them about six times as long. These new monitors make training substantially easier and lower frustration levels. The fact that someone cared enough to give us new, state of the art monitors motivates me. What solved our problem was a veteran stepping up."
One blind veteran in training is 90 Year Old, WWII Navy Veteran Emory Finefrock. Emory believes that this training is helping to "build worldwide circles" and that he is now able to "connect with veterans in ways I could not do before."
Robert Anderson, lead instructor for the training says, "The Google team has been just amazing with their support. However, there are many challenges that vision disabled veterans face while learning Google plus hangout technology to assist deaf veterans. These monitors are a real game changer. I am honored to have the opportunity to be part of a team that guides these veterans down the path as they prepare for this mission critical service."
On their own the group has adapted a quote from Emerson and see it as the future for both themselves and the blind veteran – deaf veteran relay program "Do not go where the path may lead, go instead where there is no path and leave a trail."
About the Veterans Workshop: With offices in Rhode Island and Washington, DC, the Veterans Workshop has developed unique training programs for a subset of the disabled veterans community to include blind, deaf and paralyzed veterans. Training for blind veterans is underway, with training for deaf and paralyzed veterans expected in early fall.