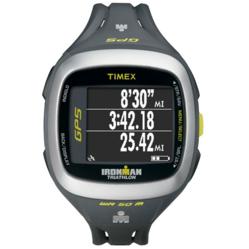 We are excited to see Timex going smaller and slimmer in overall watch size, larger in font size for readability and adding a much more user friendly menu system
Bozeman, MT (PRWEB) March 19, 2013
The new Timex Run Trainer 2.0 solves a lot of the previous model's issues that were present in the first edition of the Timex Run Trainer according to testers at the Heart Rate Watch Company.
"We are excited to see Timex GPS watch units going smaller and slimmer in overall watch size, larger in font size for readability and adding a much more user friendly menu system", says Rusty Squire, president of the Heart Rate Watch Company. He adds, "The vibration alert was another good addition as is the much higher resolution display, which makes viewing problems in bright sunlight a thing of the past".
The new unit will be available in late March and has some very significant improvements including faster GPS chip sets.
"The new Timex Run Trainer 2.0 offers 8 hours (make that 6 to 7 in reality) of battery life in full GPS mode", says Squire. He adds, "Given the new smaller size, higher resolution and much needed on screen improvements we think Timex finally has something here that will sell even better than its predecessor".
SCREEN READABILITY - THE "X" FACTOR
This new screen readability really cannot be overstated according to Squire. He adds, "It is night and day over anything Timex has ever made before and they hit an important point that a lot of manufacturers forget - readability". With aging athletes and an aging population this is a very important consideration.
Timex even added in screen reversibility so the user can have either a white screen with black font or a black screen with white font. "This was a feature we first saw on the Suunto Ambit and it is rather handy", says Squire.
"We think runners are really going to like this new Timex Run Trainer 2.0 and it has certainly closed the gap with the Garmin Forerunner 210, so it gives us a Spring toy to look forward to", says Squire.