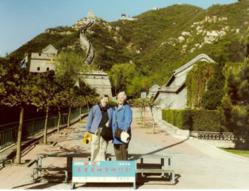 Americans are afraid to travel there because of the sanctions and because of problems between the two governments.
Chicago, IL (PRWEB) March 28, 2013
Last July, Judy Newell and Kathleen Hotton presented Iran: A New Perspective to their friends and fellow-residents of The Clare, a senior living community in Chicago. The two women who are both in their 70's have been life-long adventurers since making each others' acquaintance several years ago. They've since traveled to India, Morocco, Balkans, the 'Stans of Central Asia, Iran, taken a six-week long cruise through the Far East including China, Korea, Japan and Hong Kong, and most recently visited Iran, Paris and took a 33-day cruise in Southeast Asia. Traveling at this stage in life affords a different perspective than in younger years. "I have a broader interest and better understanding of things," said Hotton. "It expands your horizons."
Traveling later in life is not a new thing, and sites such as eldertreks.com, ElderTrav.com and JourneyWoman.com make it easy to plan off-the-beaten-path vacations for the over-50 crowd. Marketing to Baby Boomers can be quite beneficial given that there are an estimated 77.3 of them in the US. As one NY Times article explains, the effects that the Baby Boomer generation has on the travel industry is quite substantial.
Not to mention, where seniors are living these days also greatly affects their travel plans. "When you're younger, you don't have the time and money to travel as much," said Newell, who added that living at The Clare greatly simplifies the logistics. "We have the freedom to walk out, close the door behind us, and not be responsible for anything," she said. "We tell the concierge when we're leaving and when we're coming back. She takes care of security, the mail and newspapers. It's really nice," said Hotton.
The two friends, who said they will travel anywhere at any time, recently chose Iran, largely because it's a destination out of the ordinary. "We hardly saw any other tourists. There were Iranian tourists, but not very many others," said Hotton. "Americans are afraid to travel there because of the sanctions and because of problems between the two governments."
The ladies were amazed at the response of the Iranians they encountered during their travels. "We were overwhelmed by friendliness and kindness of the people there. They love Americans. They were fabulous," said Newell. "They were the friendliest people we've met on any of our travels." She continued, "All you hear are bad things, you never hear any good things. We were surprised that the people liked us so much."
The ladies each took 400-500 pictures of their adventures, which included visits to the Caspian Sea, Yazd, Shiraz and more. "We traveled through snow covered mountains as well as along the seaside where there were palm trees and orange trees. It was surprising to come from snow to tropical areas," said Newell.
"My favorite thing about traveling is seeing the people. I'm curious about the world, curious to see how the rest of the world lives, what it looks like and who they are," said Newell.
About The Clare
The Clare at Rush and Pearson is an upscale senior living community in the heart of Chicago's Gold Coast. The Clare provides incomparable lifestyle, amenities and the financial stability that only a debt-free community can offer. The Clare is owned by Chicago Senior Care and managed by Life Care Services. For more information visit: http://www.theclare.com or call 312-784-8100.