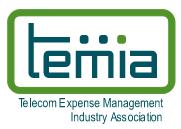 "Something magical occurs at TEMIA meetings; we see real thought-leadership as competitors work to identify best practices and industry standards.
Westlake Village, CA (PRWEB) March 20, 2013
The Telecommunications Expense Management Industry Association (TEMIA) (http://www.temia.org), the authoritative voice for the Telecommunications Management, Telecom Expense Management (TEM), Wireless Expense Management (WEM), Mobile Device Management (MDM) and Solutions Providers in related areas looks forward to its upcoming meeting April 16 and 17 in Atlanta. The meeting theme is Turning Problems into Opportunities. Its focus includes Mobile Device Management and BYOD. Speakers will include carrier contacts, industry analysts, MDM specialists, mobile security firms and more.
This is NOT a conference. TEMIA meetings provide a venue for principals of firms that manage telecommunications for very large enterprises to discuss ways to overcome industry challenges, exchange different views and learn about new industry developments.
Another highlight of these meetings is the opportunity for members to network. At this meeting, members will be able to formally present partnering capabilities and "white label" offerings to other attendees. Members are able to develop important alliance partnerships, which lead to better solutions to address clients needs.
"We are proud of our association with TEMIA. Global enterprises everywhere can benefit from the Avotus value proposition and our vision for Intelligent Communications Management. It pairs powerful software with passionate subject matter expertise to yield incredible savings for clients," commented, James Martino, global vice president for Avotus."
"Atlanta is an incredible city for technology and enterprises that utilize a large amount of telecom, and it has great weather and wonderful people. Through our membership in TEMIA and by attending these types of meetings, Manage Mobility has been able to network with a broader range of clients, partners, and competitors; all while making industry leading decisions. We couldn't be more excited to have this important event in our hometown of Atlanta." said Cameron Sowder, Director of TEM Solutions at Manage Mobility, based in Alpharetta, GA.
"There is something magical that occurs at TEMIA meetings; we see the depth of thought-leadership within the association, the diversity of solutions providers (large and small, comprehensive and niche) and gauge the overall health of our industry," said James Price TEMIA executive board president, and president of ICOMM. "It is amazing to see competitors meet and work to establish best practices and industry standards. This is an important step on an important journey," added Price.
TEMIA meets three times a year. This meeting will feature elections for four Executive Board positions. The Executive Board meets once a month by phone and web conference to advance the goals of the association through collaboration and dialog. Executive Board members also set priorities for the association based on feedback from members.
Solutions Providers that are interested in attending this meeting can contact TEMIA's managing director. In addition, they should visit the TEMIA website to learn more about the benefits of membership. There is work to do on industry standards, best practices and promotion of Telecommunications Management.
About TEMIA
TEMIA's ongoing mission is to raise awareness, to improve the quality and value of solutions and to cultivate shared industry knowledge for Telecommunications Management, Telecom Expense Management, TEM, Wireless Expense Management WEM, and Mobile Device Management MDM solutions. TEMIA seeks to do this through the development and promotion of open industry standards, and industry knowledge among solutions providers, business partners, telecom service providers, and enterprise clients. Further, TEMIA members subscribe to a Code of Ethics, which clearly differentiates their level of commitment to their clients.
For more information about TEMIA, visit http://www.temia.org.