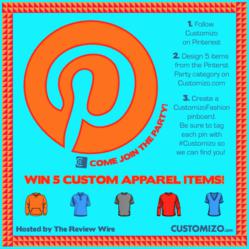 Chicago, IL (PRWEB) March 27, 2013
Izo Brands announced its first large scale giveaway venture, a Pinterest Party. The Party, hosted by The Review Wire, involves the participation of over 176 bloggers and their loyal readership. By incorporating Pinterest into its marketing strategy Izo capitalizes on Pinterest's accelerated growth rate, continuing popularity, and visual nature to showcase the custom products and design capabilities of Customizo.com.
The Pinterest Party is a fun and exciting collaborative effort designed to engage the audience of Customizo.com, the Review Wire, and the other participating bloggers. Joining the Party is simple: participants create a "CustomizoFashion" pinboard, customize five apparel items found in the Pinterest Party category in Customizo's product catalog, and pin them to their board with the hashtag #Customizo to make their pins visible to the Pinterest Party management team. Pinnable links to the designs are available through the Share function's send a snapshot option in the Design Studio. Customizable products include t-shirts, v-necks, hoodies, jackets, and polos.
The allure of Pinterest as a giveaway platform is clear for such a strongly visual product. In addition to familiarizing a broad range of users with the Design Studio software and the breadth of customizable products available on Customizo.com, using Pinterest guarantees that participants' friends and followers will see the resulting designs for themselves, not just read about them in 140 characters or less.
About Customizo and Izo Brands: With Customizo, Groupizo and Snapizo, Izo is knitting the framework for the future of e-commerce with a multi-faceted set of innovative product customization and design tools, a unique group collaboration interface, and mobile media distribution applications. Izo's mission is to be the most customer-centric, creative, and innovative company in the custom apparel and promotional products industries.