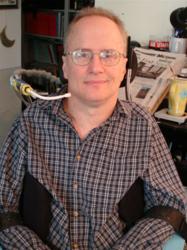 There is nothing in this or any other assisted suicide bill that can protect people who are being abused.
Hartford, CT (PRWEB) March 20, 2013
Not Dead Yet Board member John Kelly will testify before the Public Health Committee of the Connecticut Legislature on Wednesday, March 20, 2013 in opposition to H.B. 6645, which would legalize assisted suicide. Kelly is also Director of Second Thoughts Massachusetts, a disability rights group that helped to defeat an assisted suicide ballot initiative in Massachusetts in November 2012.
Kelly and Not Dead Yet CEO Diane Coleman have been working with Second Thoughts Connecticut, an activist group of people with disabilities and advocates, which will lead a press conference in room 2D of the Legislative Office Building on Wednesday at 9:30 a.m. to express opposition to the bill. Second Thoughts spokesperson Cathy Ludlum will be joined by Rep. Peggy Sayers (D-Windsor) Sen. Joe Markley (R-Southington) and other legislators. The press conference is also scheduled to include national experts and allies from a wide ideological range, including both gay rights activists and the Family Institute of Connecticut Action.
Kelly's testimony will focus on key issues of concern to people with disabilities, such as the uncertainties in medical predictions that someone will die within six months. "Underlying the effort to pass HB 6645 is an unwarranted faith in the accuracy of terminal diagnoses," said Kelly. "Doctors admit that they cannot predict when an individual will die. The disability community is full of people who have outlived their diagnoses by years."
Kelly also addresses the danger of coercion and abuse that could pressure older and disabled individuals to agree to assisted suicide. "There is nothing in this or any other assisted suicide bill that can protect people who are being abused," said Kelly.
According to a press release issued by Second Thoughts Connecticut, spokesperson Cathy Ludlum stated, "Assisted suicide would be a disaster for the state of Connecticut, particularly for people with disabilities and elderly people who are at risk of being abused. We should do all we can to care for those who need our love and support, rather than hasten their deaths.
"Connecticut's assisted suicide bill, HB 6645, goes far beyond the laws in the two states where assisted suicide is legal. It eliminates the waiting periods that exist in Oregon and Washington. It does not have a mandatory second opinion requirement. It does not include any reporting requirements to the State Department of Public Health. With its push for HB 6645, pro-suicide activists have shown their true radical agenda. Second Thoughts will join with a wide variety of people from across the ideological spectrum to oppose this bill."