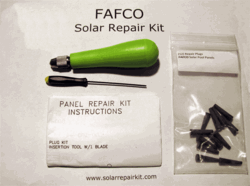 As a green company the idea it so offer as many sustainable products that you can
San Diego, California (PRWEB) March 26, 2013
Pool Services Technologies (PST) initiated business back in 2009 primarily recycling swimming pool water. Over the past four years PST has conserved more than 7.5 million gallons of water in the San Diego area. With numbers like this PST takes sustainability seriously. Bruce Wettstein, President of Pool Services Technologies stated, "We will do anything we can to be as green as possible. It's something we believe in and want to partner up with other companies that have the same mission."
As a recycler of swimming pool water, PST is always looking for other ways to be "green" in the backyard. Pool Services Technologies started an eCommerce site several years ago and primarily sells products that fit this mold as well as other popular products in the swimming pool industry. Pool Services Technologies recommends FAFCO Solar Pool Heating but also wanted to provide customers with any products needed to fix them if necessary. That's why Pool Services Technologies eCommerce site now carries the FAFCO Solar Repair Kit. Sometimes the panels will leak and the repair kit can fix them in a few simple steps. "It's our way of carrying as many products as our swimming pool customers might need" according to Wettstein.
ABOUT
Pool Services Technologies, Inc., founded in 2008 and headquartered in Escondido, California, provides an alternative to draining and refilling swimming pools-a necessary part of pool ownership. Recovering nearly 85% of the existing water in a swimming pool, this service realizes huge water conservation results. Additionally, the company strives to enable swimming pool owners with the knowledge needed to always provide a safe, healthy swim environment for their loved ones and guests by offering free water analysis and explanation of how to maintain their water. Discounted water test kits and water chemistry tools are explained and offered, should the pool owner wish to take it to the next level. The company preaches water conservation, and prudent water chemistry levels, providing the best quality water and swim experience for all swimming pools, residential and commercial.