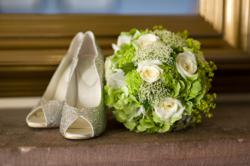 Newport Beach, CA (PRWEB) March 20, 2013
As the concept of "going green" became widespread in everyday living, it was bound to also make its way into the wedding scene. In fact, having a green wedding is now one of the biggest trends in the wedding industry, says Wedding.com
According to a Huffington Post article, going green is the trend of the year for 2013 when it comes to weddings (http://www.huffingtonpost.com/bridal-guide/top-13-wedding-trends-for_b_2366341.html#slide=1914625). Couples are now making a conscious choice to have eco-friendly weddings, and most wedding vendors are catering to the green trend, says Wedding.com. From recycled options to tree-free ones, paper goods such as invitations and programs are reflective of the times. DIY couples are purchasing used items and upcycling them to use as part of their wedding décor. Caterers are also offering sustainable wedding food for those that prefer it. Green wedding choices are limitless this year.
"Sustainability has become quite important to the general public, and vendors are making sure they offer green products and services to their clientele," says Brett Reynolds, CEO of Wedding.com. "Brides, grooms, and the wedding industry as a whole have embraced going green. It would be great if this particular trend becomes standard, and the way we see it, it most likely will."
For more information about Wedding.com, please visit http://www.wedding.com.
About Wedding.com
Wedding.com is an innovative new website that connects engaged couples planning their wedding with wedding vendors looking to grow their business. Wedding.com contacts vendors for couples, giving them the power to compare and negotiate while ultimately saving time and money. With 12,000 couples and 22,000 vendors currently using the website, 105,000 proposals have already been sent since their inception. Vendors range in services from wedding planners, photographers, florists, and DJs to custom invitations, party favors, and much more. For additional information about the company and its services, please visit http://www.wedding.com.