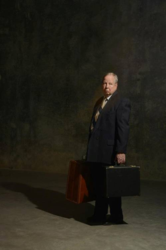 Richard Scott's blustering volcano of a Willy prowls the stage, vacillating between self-confidence and self-doubt. Fossen's direction manages pace and emotion with admirable ease.
Salt Lake City, UT (PRWEB) March 20, 2013
The Grand Theatre's production of Death of a Salesman is in its final week. The production of the famous Arthur Miller play, which concludes its run on March 23, has received rave reviews—called 'timely,' 'provocative,' and 'not to be missed.'
Mark Fossen—who 'creates an iconic stage picture'—directs a cast that was 'Spot-on,' 'completely believable,' and even stole a reviewer's heart. Richard Scott's 'blustering volcano of a Willy prowls the stage, vacillating between self-confidence and self-doubt,' and was singled out for special praise.
Jocelyn Gibbons in Utahtheatrebolggers.com wrote, "Taking on such a mighty script is no small task, but the Grand Theatre proved up to the challenge." Barbara Bannon's review in the Salt Lake Tribune cites the production's 'powerful, fully realized creations of these characters.' Jennifer Mustoe of FrontRowReviewersUtah.com tipped her hat to Fossen who, "Obviously got into the mind of Miller when he brought such depth to such a difficult, painful piece."
The show plays Thursday-Saturday at 7:30 p.m. at the Grand Theatre, located at 1575 S State Street in Salt Lake City.
Tickets are still available. Contact the Grand Theatre box office at: (801) 957-3322 or http://www.the-grand.org.
About the College: Salt Lake Community College is an accredited, student-focused, urban college meeting the diverse needs of the Salt Lake community. Home to more than 62,000 students each year, the College is the largest supplier of workforce development programs in the State of Utah. The College is the sole provider of applied technology courses in the Salt Lake area, with 13 sites, an eCampus, and nearly 1,000 continuing education sites located throughout the Salt Lake valley. Personal attention from an excellent faculty is paramount at the College, which maintains a student-to-teacher ratio of less than 20 to 1.