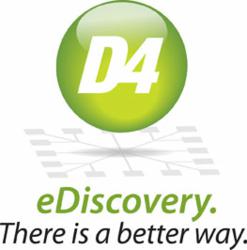 Rochester, NY (PRWEB) March 20, 2013
D4, a national provider of eDiscovery, digital investigation, information management and security solutions to law firms and corporations, today announced that Peter Coons, senior vice president, has attained the Certified Information Systems Security Professional (CISSP®) certification presented by the International Information Systems Security Certification Consortium.
"CISSP is an elite accreditation in the area of information systems security," said John Holland, CEO and founder, D4. "Pete's professional experience, combined with the knowledge this certification acknowledges, puts us at the forefront of information security terms and principles as we help clients discuss, debate and resolve issues pertaining to security. We'd like to congratulate Pete on this accomplishment."
CISSP is an independent information security certification governed by the International Information Systems Security Certification Consortium. It is considered the gold standard in information security certifications and education. The Certification has been formally approved by the U.S. Department of Defense (DoD) in both their Information Assurance Technical (IAT) and Managerial (IAM) categories for their DoDD 8570 certification requirement. The CISSP has also been adopted as a baseline for the U.S. National Security Agency's ISSEP program.
About D4, LLC
D4 is a leading national provider of electronic discovery, computer forensics and litigation support services to AMLAW200 firms and Fortune 1000 companies. D4 was one of the first providers to offer an eDiscovery Managed Services solution, eNtrust, which launched in 2011. D4 has been instrumental in helping customers realize up to a 70 percent cost reduction over previous e-discovery solutions. The company's state-of-the-art data center operations in Rochester are complemented by electronic discovery and litigation support offices throughout the U.S. D4 has been recognized by Inc. Magazine as one of the fastest growing private companies in the US and is an INC 500/5000 honoree. Visit http://www.d4discovery.com for more information.
Contact:
Nancy Pieretti
nancypieretti(at)gmail(dot)com
603-268-8007
Martha MacPherson
Vice President of Marketing, D4
mmacpherson(at)d4discovery(dot)com